US-led NATO battle group arrives at Polish base (VIDEO)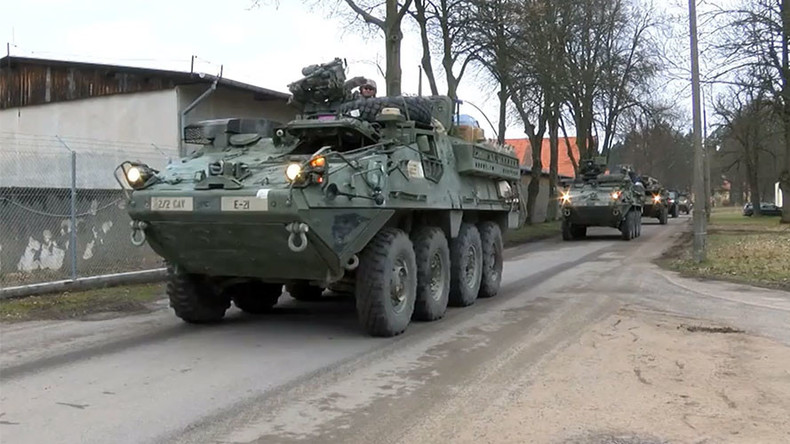 A US-led battle group of 1,350 soldiers for NATO's Enhanced Forward Presence in Eastern Europe has arrived at its base near Orzysz in northeastern Poland.
The American, British, and Romanian soldiers, who are "fully prepared to deter Russian offensive actions," as US Colonel Patrick Ellis put it at the group's departure ceremony a little more than a week ago, have been sent to Poland from a base in Germany. A video from Ruptly news agency, made at the entrance to the base, shows convoys of armored vehicles entering the base, which is 220 kilometers northeast of Poland's capital, Warsaw, on Friday.
"I think the nations of NATO, they've decided that [there's] at least a threat to be deterred. By any means this is not an aggressive move, this is just a deterrence," US Army Lt. Col. Steven Gventer, the battle group's commander, said upon arrival at Orzysz.
"They've decided it is a prudent move to ensure that there's at least a collective capability and a collective defense along our Eastern flank. We're not here to antagonize, we're here strictly to make sure that our borders of the NATO alliance are not incurred upon by an aggressor," Gventer stated further.
The deployment was announced by US Secretary of State Rex Tillerson during his first visit to an alliance ministerial on Friday, where he said that NATO is "fundamental to countering both non-violent, but at times violent, Russian agitation and Russian aggression."
"These are not just words. Tomorrow, a US enhanced, forward presence battalion will be deployed in Poland. The United States is committed to ensuring NATO has the capabilities to support our collective defense. We understand that a threat against one of us is a threat against all of us, and we will respond accordingly. We will uphold the agreements we have made to defend our allies," Tillerson pledged.
Responding to Tillerson's words, the Russian Foreign Ministry said it was "baffled" by the rhetoric, especially considering the timing of the remarks, which came a day after the ambassadorial meeting of the Russia-NATO Council – the first such contact in almost three years. The ministry expressed disappointment that NATO decided to perform the traditional anti-Russia "ritual dance" right after Secretary-General Jens Stoltenberg called the talks with Moscow "frank" and "constructive."
The battle group is being deployed in Poland in accordance with the decision to place four multinational battalions in the Baltics, agreed on by NATO last summer. It will include around 4,000 NATO troops with tanks, armored vehicles, air support, and high-tech intelligence centers deployed to Poland, Latvia, Lithuania, and Estonia.
READ MORE: Russia increases nuclear sub fleet, combat patrols reach Soviet-era levels
The buildup along Russian borders has been explained by NATO as necessary for reassuring the bloc's eastern European allies in view of Russia's reunification with Crimea, Moscow's alleged involvement in the Ukrainian conflict, and what NATO calls "aggressive" actions by Russia. The buildup is viewed by Russia as a provocation and a threat to the entire region's security and peace.