French presidential hopeful Fillon dismisses Russian 'interference' in election as 'fantasy'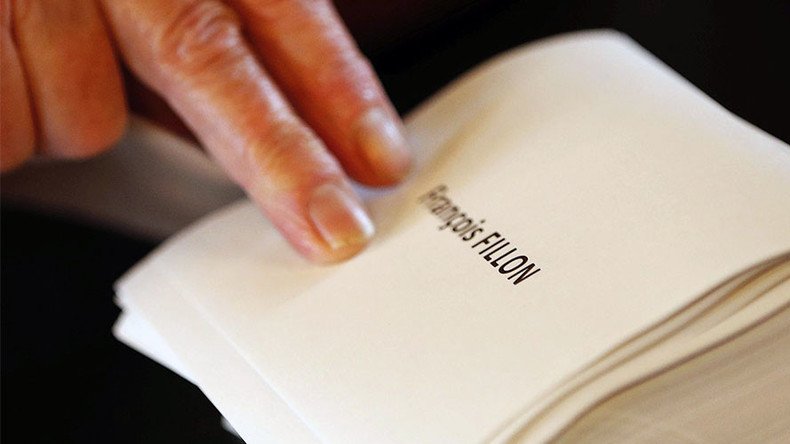 French center-right presidential candidate Francois Fillon has dismissed allegations of Russian interference in the French election, calling them "fantasies," and saying that Europe should seek a dialogue with Moscow.
"We must avoid these fantasies," the French politician said, referring to the recurring speculation about Russia's alleged interference in the electoral process in France.
"There is enough unwelcome interference in this electoral campaign to not need to go and seek some in Russia," Fillon told reporters, as he outlined his defense program at a press briefing, adding that French politicians "are sufficiently capable" of interfering in the election campaigns of their rivals themselves.
Earlier, Fillon accused the French government, and President Francois Hollande in particular, of ordering leaks of compromising materials about him and his wife, which led to a large-scale fraud investigation and a drop in Fillon's ratings.
Russia has repeatedly denied any interference in foreign elections, including that of France. On March 24, Russian President Vladimir Putin said during a meeting with French presidential candidate Marine Le Pen that Russia "does not want to influence in any way the events going on [in France]," but reserves the "right to communicate with all representatives of the country's political powers, as our partners do in Europe and in the US."
Fillon stressed the necessity to improve relations with Russia, despite all the differences in opinion between Moscow and the West, adding that France should focus on defeating "totalitarian Islam."
"Today, it's a new cold war even though our priority is to defeat Islamic totalitarianism," he said, admitting that Europe's relations with Russia have always been "difficult."
"We can consider it [Russia] an enemy and prepare a clash or adopt a second strategy to try and engage in a serious and frank dialogue to put in place conditions for peace in Europe," Fillon said, adding that he would pursue the second approach.
Fillon currently enjoys 19 percent of the public's support in the coming election, trailing centrist Emmanuel Macron and National Front leader Marine Le Pen, both of whom are backed by 24 percent, according to the French research company Opinionway.
Fillon's remarks follow a statement by the head of the US Senate Intelligence Committee, Senator Richard Burr, who said on Wednesday that Russia was "actively" meddling in elections in France and other western countries.
"I think it's safe by everybody's judgment that the Russians are actively involved in the French elections," Burr said at that time, as cited by AFP. "What we might assess was a very covert effort in 2016 in the United States, is a very overt effort, as well as covert, in Germany and France," he added.
'EU should hold border conference with Russia to avoid war'
Another French presidential candidate, Jean-Luc Melenchon, who leads the Unsubmissive France (FI) movement and ranks fourth in the race with 11 percent, suggested holding a conference on the status of national borders, which would involve Russia, the US, and European countries.
"They tell me that the borders must remain intact, and I would like that, but we need to talk about it or we make war," Melenchon told the French media as he slammed the "naivety" of those who try to "teach him a lesson," referring to another candidate, Benoit Hamon.
"I consider the offer to hold a conference a more realistic condition [than war]," he said, also referring to those "simpletons who believe that [the borders] are fixed and it's enough to run around shouting about this untouchability to resolve the issue."
He went on to say that the conference would be particularly needed to resolve the issue of Crimea. European countries, he believed, should engage in dialog with Russia despite what they may think about its political system, because the alternative "is the war or an escalation to war which we don't want."
He also criticized western countries for not helping to establish borders after the collapse of the Soviet Union and lying to Russia about NATO expansion.
"The collapse of the USSR didn't lead to any negotiation on how to re-organize what used to be the former Soviet empire. Afterwards, we lied: they [the USSR] were told that NATO wouldn't go near Russia, and pretty soon, we did the opposite," Melenchon said.
The first round of the forthcoming French presidential election is scheduled to take place on April 26, 2017. A total of 11 candidates will take part.
You can share this story on social media: