Qatar & Etihad Airways offer free laptops, tablets on US flights to circumvent electronics ban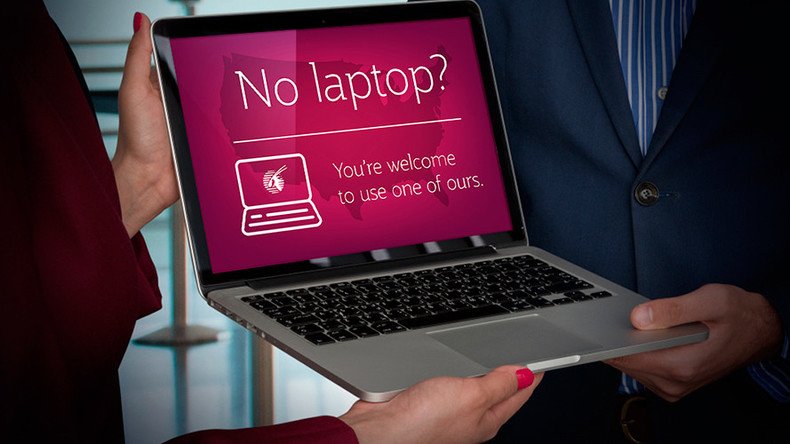 In response to the US ban on electronic devices inside passenger cabins of planes from the Middle East, Qatar Airways and Etihad Airways have announced services which will offer their clients free laptops and tablets on US-bound flights.
"Qatar Airways has announced a unique solution to the recently imposed Electronics Ban by offering passengers a laptop loan service that takes their award-winning five-star reputation to new heights," the airline said Thursday.
Last week, the US government banned tablets, laptops or any communication gadgets larger than a smartphone from being brought into the passenger cabin of planes on specific flights.
The restriction affects flights to the US from 10 international airports in the Middle East. Those airports include the cities of Cairo, Egypt; Amman, Jordan; Kuwait City, Kuwait; Casablanca, Morocco; Doha, Qatar; Riyadh and Jeddah, Saudi Arabia; Istanbul, Turkey; and Abu Dhabi and Dubai, United Arab Emirates.
US authorities said the measure is the result of intelligence showing a risk of terrorist activity involving commercial aviation.
In response, Doha-based Qatar Airways decided to purchase laptops that will be "available for loan" on all of its US flights.
The complementary laptops will be offered to business class passengers traveling on all US-bound flights from next week. Those traveling to the States will also be able to download their work onto a USB drive before boarding.
The hardware will be handed out after the passengers reach the aircraft and will then be taken back on arrival.
"We truly appreciate the importance of being able to work on board our aircraft and that is why I have insisted on offering only the best possible solution for our customers," said Qatar Airways Group chief executive Akbar Al Baker, when announcing the new service.
Etihad Airways, based in the United Arab Emirates, made a similar announcement on Tuesday.
Emirates is also considering lending some passengers laptop computers and tablets to use on its flights following the new US ban, according to AFP.
Meanwhile, other carriers have touted better on-board connectivity for smartphones, in response to the laptop ban.
Turkish Airlines official told Reuters this week that it would be rolling out a new system to allow passengers to use 3G data roaming on mobile phones, and planned to make Wi-Fi readily available on some aircraft.
Emirates also announced the introduction of a "laptop and tablet handling service" for US-bound flights, which would allow passengers to use their devices until the moment they board.
You can share this story on social media: