German government explores 8 alternatives to its Turkish airbase – report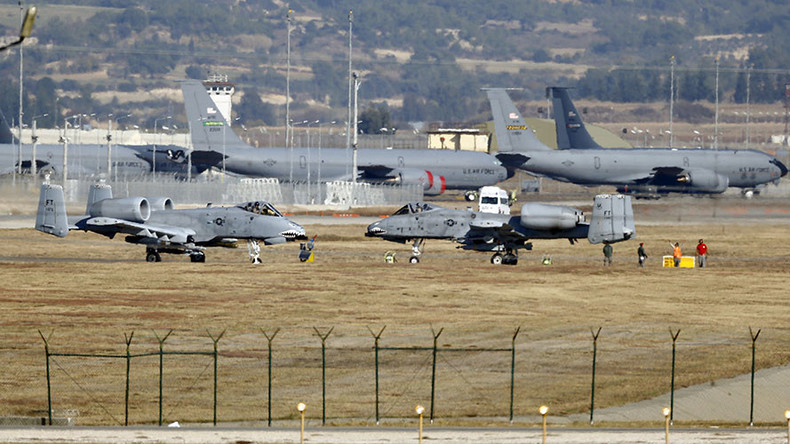 German authorities have examined eight potential locations for the relocation of its air base currently situated in Turkey's Incirlik military facility, Germany's government said in response to a parliamentary inquiry, as reported by Die Welt daily.
"The review of alternative sites to the Turkish aircraft base Incirlik found that, from a military perspective, locations in Jordan, Kuwait and Cyprus were available," the government said in its official response to the MP's, which was seen by Die Welt.
The German daily reports that Kuwait and Jordan each host three potential sites, where the new German base could be built, while another two possible locations were identified on Cyprus — the British air base in Akrotiri and in the town of Pahpos.
The government paper also says that all locations have been already visited by German specialists "within the framework of a military exploration for the purpose of reviewing their fundamental suitability."
At the same time, it added that "no conversations concerning possible stationing" had been held.
The report about the German government's review of potential sites for the base relocation came in response to a parliamentary inquiry launched by two MP's from the Left Party and four lawmakers from German Chancellor Angela Merkel's Christian Democratic Union (CDU) and its Bavarian sister party, the Christian Social Union (CSU).
The report was, however, criticized by the Left Party's foreign affairs spokesman, Jan van Aken, who initiated the inquiry. "The government obviously has no interest in relocating the German armed forces from Incirlik if they have not even had a conversation with the other countries where stationing is possible," he told Die Welt, adding that the government "compiled a list of potential alternatives only to calm down the MP's," but is in fact reluctant to take any real steps in that direction.
In Mid-March, a group of German MP's already called for the withdrawal of troops deployed at Incirlik Air Base against the backdrop of a diplomatic row between Germany and Turkey over the forthcoming Turkish referendum on constitutional amendments.
Ankara is sponsoring a series of rallies for Turkish citizens living in Europe, campaigning for their votes ahead of the referendum seeking to enhance the power of the Turkish presidency. Germany has undermined this effort along with some other European countries by canceling the events and banning Turkish officials from appearing at campaign rallies.
In March, Florian Hahn, the CSU spokesman for security and foreign policy, said German soldiers and officers may become pawns in Turkey's power games. Hahn said Ankara already played the Incirlik card in June last year, when it prevented German MP's from visiting the base amid a row over Berlin's formal recognition of the mass killings of Armenians under Ottoman Empire rule as genocide.
The German legislators then managed to visit the base on October 5, 2016. However, none of them have been allowed on the base since that time, Die Welt reports. Requests filed by six parliamentarians are still being processed by Turkish authorities who "have not yet sent any denial letters," the paper reports, citing the governmental report.
Germany also has another military base in Turkey in Konya, which is located some 350 kilometers west of Incirlik. Van Aken's request to visit this base was rejected by Turkish authorities, according to Die Welt.
The Incirlik Air Base is located in southern Turkey close to Syria and is used by several NATO countries, including the US, UK, and Germany, which has stationed a force of some 240 servicemen. German Tornado planes conduct reconnaissance flights from the base as part of Berlin's contribution to the US-led coalition fighting terrorist group Islamic State (IS, formerly ISIS/ISIL).