Angry mob attacks Africans in India after teen's overdose death (PHOTOS, VIDEO)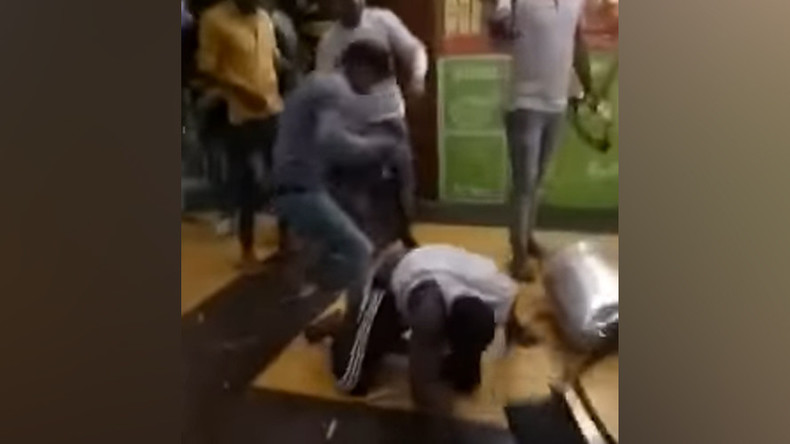 A march mourning the death of a teen in India turned violent after a mob assaulted Africans with chairs and other objects, injuring 10 and hospitalizing at least four. It came after police released five Nigerians suspected in the teen's apparent drug overdose.
Footage posted online shows dozens of people using chairs and a metal trash can to attack an African shopper in the Ansal Plaza shopping center.
Another image shows a damaged car after a mob had reportedly hit it with sticks.
Ten Africans were injured in the attacks, according to local police, as cited by AFP. At least four people were admitted to hospital, the Times of India reported.
Most of the victims were targeted while doing their shopping in the mall, according to the Hindustan Times. At least four people were reportedly attacked in the streets.
"Rumors were being spread that Africans are behind the youth's death and racist comments were made on social media. It looks racially motivated," senior police officer Sujata Singh told AFP.
"Five attackers have been arrested and four others are on the run," she said, adding that 300 people were involved in the rioting.
The attacks prompted the Association of African students in India to advise those living in Greater Noida to remain indoors.
The violence came after a candlelight vigil for a 16-year-old Indian teen who died in an apparent drug overdose, according to the Indian Express. Five-hundred people had assembled for the vigil, according to Singh.
It also followed the release of five Nigerians who had been suspected in the teen's death.
Police had detained the Nigerians after a group of local people went to their home and accused them of murder, alleging that they provided the teen with the drugs that killed him.
However, authorities said they failed to find any evidence against the Nigerians.
READ MORE: 12yo Indian girl 'gang raped by school principal & 3 teachers' in critical condition
Africans living in India frequently face discrimination and violence, and are often accused of being involved in the illegal drug trade.
Last year, a Congolese national was stoned to death in a dispute over an auto-rickshaw. Earlier, a Tanzanian student was attacked and partially stripped by a mob in Bangalore.
African ambassadors in New Delhi threatened to advise students to avoid schools in the capital for their own safety, following the May 2016 stoning.