Police vans torched in German city of Hamburg, second incident in 10 days
Published time: 28 Mar, 2017 12:47
Edited time: 28 Mar, 2017 12:55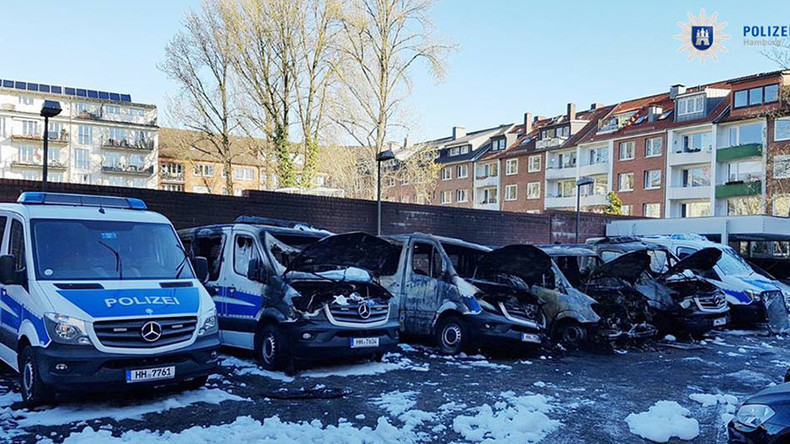 Several vans have been set on fire outside a police station in Hamburg, Germany, just 10 days after unknown assailants carried out an arson attack on a car belonging to the city mayor's security detail.
In the early hours of Monday, eight cars were torched outside a local police station in the Eimsbuettel neighborhood of Hamburg.
Police later confirmed that four patrol vehicles had been destroyed beyond repair, while four others were damaged. No one was injured in the incident.
Germany's Bild newspaper reported that two of the damaged vehicles were civilian.
What appears to be a well-planned arson attack was praised on a local left-wing website, according to broadcaster NDR. The message, titled 'The whole of Hamburg hates the police, the whole world hates the police', claims that the target for the assault had been chosen carefully.
The police are acting as protectors of the ruling class and must be "attacked with full severity," it added.
An investigation will specifically look at a possible link between the incident and the upcoming G20 summit in Hamburg, NDR reported. Gerhard Kirsch, head of the regional police union, said the arson attack signals the preparation of violent protests during the event, but cautioned against spreading panic.
Hamburg police released an angry statement on their Facebook page, saying: "The right to protest is enshrined in our basic law, but it has to stay within legal limits. Anyone who expresses their views through violence, either against property or people, is acting as a criminal.
"Setting vehicles on fire always endangers people – residents, fire brigades and policemen!" they wrote.
READ MORE: OSCE summit venue in Hamburg set on fire in likely politically-motivated attack (VIDEO)
Hamburg, which is preparing to host the G20 summit in July, has already seen similar acts of destruction in recent days.
In mid-March, radical left activists claimed responsibility for an arson attack on two police vehicles in the city. One of the cars, a police Mercedes Sprinter, was assigned to a security detail protecting the residence of Hamburg Mayor Olaf Scholz.
Shortly after, a Mercedes Viano belonging to the local police union was torched within sight of a police station.
Police said they suspected the attack could be related to the July G20 summit.
"We cannot rule out that this act was politically motivated," said police spokesman Oliver Malchow on Friday, according to Deutsche Welle.