OSCE summit venue in Hamburg set on fire in likely politically-motivated attack (VIDEO)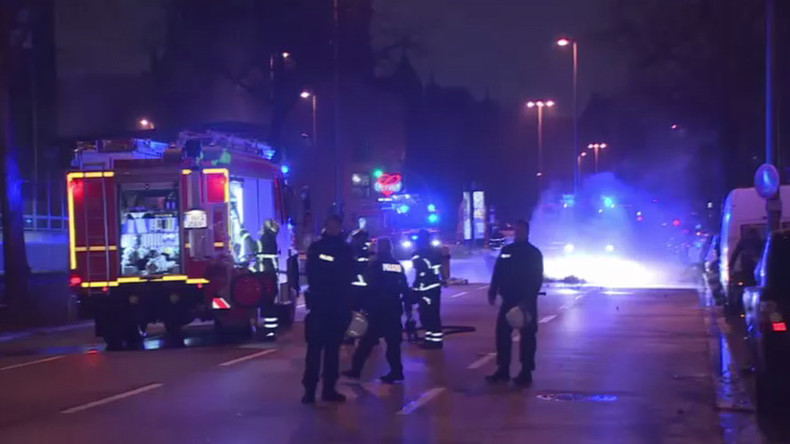 With just several days to go until the OSCE summit in Hamburg, its venue has been targeted by dozens of arsonists with their faces concealed under black balaclavas. Police believe there is an obvious connection between the summit and the attack.
About 40 unidentified men in balaclavas threw flammable materials through the entrance of the Hamburg Messe trade fair building on Sunday evening, local media reported. It only took seconds for flames to engulf the first floor.
In a matter of minutes, the perpetrators set fire to barriers and waste containers in several parts of Hamburg's Karolinenstrasse, after which "they disappeared in between the blocks as fast as they had come," an eyewitness told Bild.
The fire caused much damage to the facade of the building, but fire brigades quickly brought it under control, a spokesperson for the Hamburg Fire Department told Merkur newspaper.
The arson attack happened about one and a half weeks before the OSCE Foreign Ministers meeting in Hamburg, scheduled to take place December 8 to 9 at the same building.
Embracing 57 member states across North America, Europe, and Asia, the OSCE is the world's largest security organization. Since its creation in 1975, the organization has focused on conflict prevention, crisis management, and post-conflict rehabilitation.
The local criminal police said it secured evidence at the crime scene shortly after the incident, with one investigator telling Bild: "We believe that the attack has reference to the OSCE."
OSCE vehicle hit by arson in western Ukraine (VIDEO)

Despite suspicions that the attack was politically motivated, nothing is known for sure about the perpetrators. According to the magazine, far-left groups, such as the Alliance against Imperialist Aggression, have already announced rallies against the summit.
Hamburg, one of the largest German cities and a logistical hub, will host the G20 summit in summer 2017, and massive anti-globalization rallies are expected to follow.