'Terrorism Godfather' Erdogan pursuing 'Third Reich-style' foreign policy – top German MP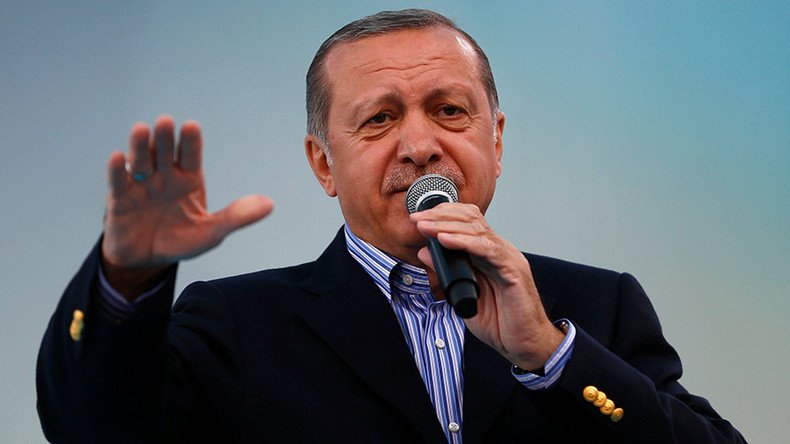 A top German MP has slammed Turkish President Recep Tayyip Erdogan, calling him a "terrorism Godfather" and accusing him of pursuing a Third Reich-style foreign policy. The outburst follows Ankara's Nazi-themed taunts over a ban on Turkish rallies in Germany.
"Turkey's foreign policy priorities… are reminiscent of the Third Reich," said Sahra Wagenknecht, head of the German Left Party's parliamentary faction, speaking to other MPs in the Bundestag.
"Namely, it seeks to install [Turkish] minorities in other countries in order to pursue [Turkey's] own violence-based policy, own geopolitics as well as its own policy of suppression there."
She also referred to the Turkish president as a "terrorist Godfather."
"This is a call for terrorism. Here speaks a terrorist, as simple as that," Wagenknecht said, according to Frankfurter Allgemeine Zeitung.
Wagenknecht was addressing recent remarks by Erdogan, who last week threatened that Europeans would find themselves in danger unless the EU abandoned its policy of allegedly suppressing Turkish political activism.
"If you continue to behave like this, tomorrow in no part of the world, no European, no Westerner will be able to take steps on the street safely and peacefully," the Turkish leader said last Thursday, as cited by Deutsche Welle.
In early March, authorities in two German states withdrew permission for a number of pro-Erdogan rallies in support of expanding presidential powers. The decision was taken amid growing public outrage over Ankara's arrest of a Turkish-German Die Welt reporter, but also reflected the widening rift between the two NATO allies.
In retaliation, Erdogan lashed out at Germany, likening its policy to "Nazi measures." In the days that followed, he reiterated the comparison, slamming European countries such as the Netherlands for employing "fascist" or "Nazi-like" policies.
Berlin later urged Ankara to consider ethical standards and end its anti-German rhetoric.
The political row is likely to have ramifications for the future of Turkish-European relations, as many influential voices in Europe have suggested that important parts of bilateral dialogue – including Turkey's EU accession bid – be put on hold until Ankara softens its stance.
Berlin maintains that military-to-military ties and cooperation on combatting Islamic State (IS, previously ISIS/ISIL) should be maintained despite diplomatic discord.
Erdogan has come under intense criticism in Europe and beyond after a far-reaching crackdown on political opponents following a failed coup attempt in July last year. Dozens of Turkish journalists and writers have been arrested, along with a large number of civil servants, diplomats and soldiers.
You can share this story on social media: