'An attack on democracy': Mass brawl at opposition rally ahead of Turkey referendum (VIDEO)
Published time: 26 Mar, 2017 23:02
Edited time: 27 Mar, 2017 12:44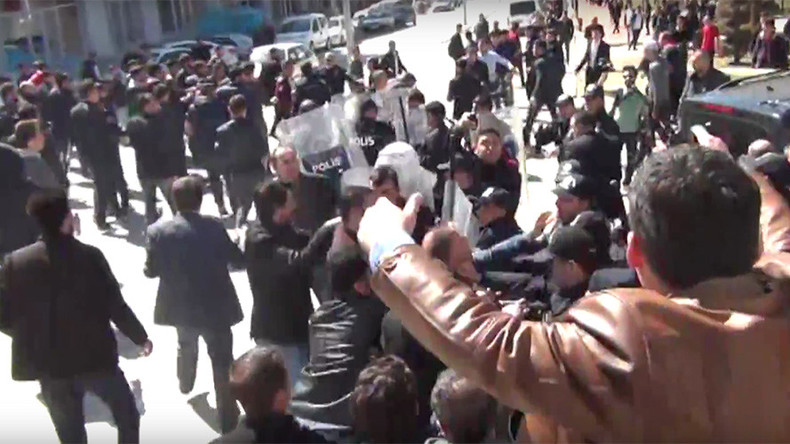 With three weeks to go until a controversial referendum on expanding presidential powers, tempers are running high in Turkey. Police intervened after a group of protesters attempted to disrupt a rally of a 'No' vote campaigner and a violent fight ensued.
Footage on YouTube showed violent scenes that took place before a meeting between a member of the Turkish parliament, Sinan Ogan and protesters. Earlier this month, Ogan was expelled from his nationalist MHP party, which endorses the changes proposed by the referendum, for failing to follow the official line, and has embarked on a nationwide tour to canvass for a "No" vote.
As he was due to arrive in the city of Yozgat, 150 kilometers east of the capital, Ankara, a hostile crowd of several hundred MHP loyalists gathered in wait, shouting slogans, balanced by a similar number of Ogan's supporters.

As the politician arrived in a minibus, several bangers were set off, and in the chaos the two groups began to swing punches at each other, with an overmatched police squadron trying to maintain the peace. News media reported that two officers were taken to hospital with minor injuries, and amateur footage taken at the scene shows several people emerging with blood streaming down their faces and on their clothes.
Ogan was later able to deliver his speech inside the town hall, in which he argued that granting more executive powers to Turkish President Recep Tayyip Erdogan would turn Turkey into a dictatorship.
Meanwhile in the street, police broke up the rowdy crowd of protesters using batons, pepper spray and tear gas.
"The target of this attack is not Sinan Ogan but the people who are voting 'no.' The target of the attack was Turkish democracy," said the opposition politician.

Ogan and other 'No' campaigners claim that the incident was part of a wider campaign of intimidation and violence.

"First my lectern was knocked down, then an attack on my car, and now an armed attack," Ogan tweeted following the incident. Earlier this month, Ogan was interrupted mid-speech when a protester ran onto the stage, and knocked over his stand. The offender was released soon afterward.

Ogan has complained to the media that venues are denying access to 'No' campaigners, turning off the power during speeches, destroying their leaflets, and interrupting showpiece addresses, which are also mostly ignored by the main pro-government TV channels.

He accused the justice minister, governor and chief of police of being complicit by purposely allowing the attack to take place, saying he had warned them of potential provocations earlier.

The Justice Ministry issued a statement denying any involvement, and described the accusations as "an ugly lie."
READ MORE: Erdogan says relations with 'fascist & cruel' Europe may be reviewed after April referendum
The April 16 referendum, called in the aftermath of the failed coup last July, remains balanced on a knife-edge, and has provoked an international diplomatic crisis, after several government politicians were denied the chance to deliver speeches in EU countries with sizeable Turkish populations. Pro-Erdogan rallies were, however, held without incident in a number of cities across Europe, as well as several major protests against the Turkish leader. Opponents of the vote argue that expanding presidential powers would cement the authoritarian tendencies in the Turkish government.