Erdogan's 'Nazi' rhetoric rolls back integration achievements in Germany – finance minister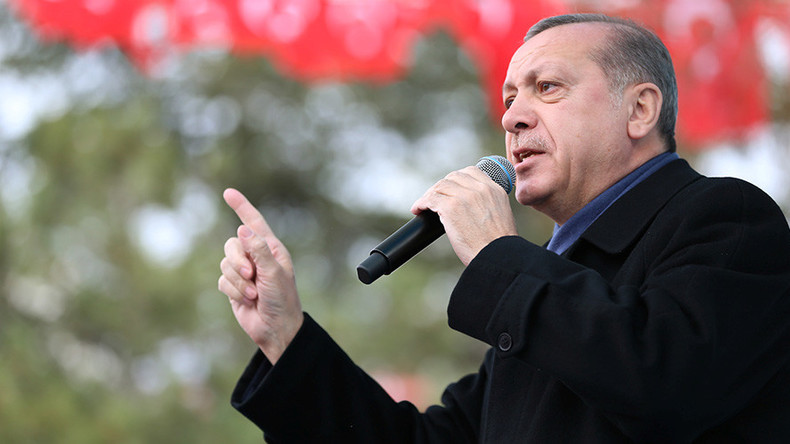 German Finance Minister Wolfgang Schaeuble has sharply criticized Turkish President Recep Tayyip Erdogan for his recent Nazi taunts, saying they not only hurt bilateral relations but also impede integration efforts.
"Erdogan's rhetoric leaves me speechless," Schaeuble told German Die Welt am Sonntag. "Within a short space of time, it maliciously destroys what we in Germany have achieved in the field of integration over the years," he noted when asked about the issue of integration of Muslims.
He went on to say that the Turkish president's statements have in fact led to some "major setbacks" in the integration process and added that "recovery from the damage that has been recently done would take years."
Schaeuble's remarks come amid an ongoing war of words between Turkish and German authorities, with Erdogan repeatedly slamming certain European countries, including Germany, for "fascist" or "Nazi-like" policies. The diplomatic row was caused by the European states' reluctance to allow Turkish officials to hold rallies in support of Erdogan ahead of a controversial referendum on constitutional reform that would significantly boost his powers.
His statements provoked outrage from German politicians. On Friday, however, Erdogan vowed that he would continue to call European leaders "Nazis" as long as they keep calling him a "dictator."
Integration of Muslims "poses particular challenge"
In the meantime, Schaeuble also stressed that the integration of people with differing cultural and religious backgrounds could pose serious challenges and called for more active efforts in this field. He said in particular that the massive inflow of Muslims during the refugee crisis poses "a special challenge to our [German] land and our patriotism."
However, Muslims in Europe now have to "make the same leap forward, which took Christians in Europe hundreds of years," he said, adding that Germans "must help Muslims that came to them to [adapt to] modern western society."
At the same time, he stressed that Germans also expect refugees and migrants to make more effort to integrate. "We must tell the people: if you live here for a long time, it is in your own interest to start feeling... a part of our society and to become a real German."
He went on to criticize the German government's handling of the 2015 refugee crisis, saying that "too many people came to Germany too quickly," adding that this situation did not make the integration process "any easier." Schaeuble also said that the government "reacted to the challenges of the refugee crisis too slowly."
The government's response to the 2015 crisis "failed to gain traction, to put it mildly," the minister stressed. However, he also said that the "mistakes of the autumn of 2015" have since been corrected and the situation has significantly improved.
You can share this story on social media: