Likely war crime: Alleged Saudi coalition strike on refugee boat condemned by HRW
Published time: 26 Mar, 2017 16:52
Edited time: 26 Mar, 2017 16:55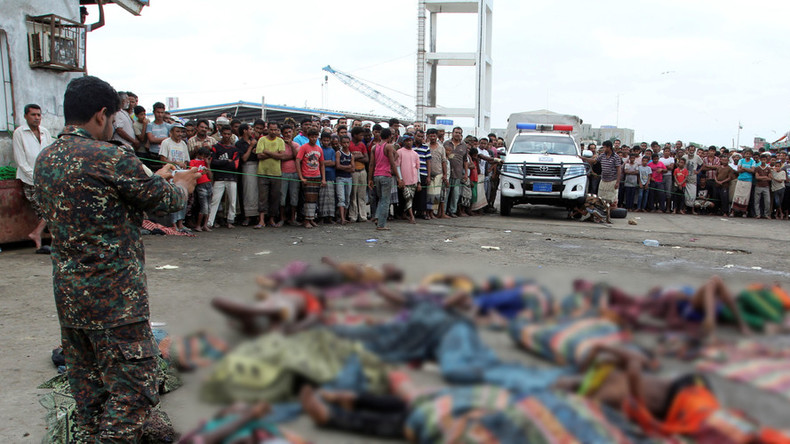 A recent deadly airstrike on a boat in the Red Sea carrying Somali refugees was likely a war crime, Human Rights Watch said. The strike off the Yemeni coast is believed to have been carried out by the Saudi-led coalition.
"The coalition's apparent firing on a boat filled with fleeing refugees is only the latest likely war crime in Yemen's two-year-long war,"said Sarah Leah Whitson, Middle East director at Human Rights Watch (HRW). "Reckless disregard for the lives of civilians has reached a new level of depravity."
At least 32 Somali refugees were killed off the Yemeni coast, when, according to witness accounts, an Apache helicopter suddenly opened fire at the boat. Preliminary estimates by the UN's refugee agency, the UNHCR, put the number of dead at 42. UNHCR said it was "appalled by the deaths of refugees."
All parties to the conflict denied involvement in the attack.
"Only the Saudi-led coalition has military aircraft. The Houthi-Saleh forces do not. Somalia, which supports the coalition, called on the coalition to investigate," the HRW statement says.
HRW cited horrifying testimonies of people who survived the attack. A Somali woman, 25, who was injured in the attack, said: "All of a sudden, I saw a helicopter above us... They attacked abruptly... When they kept firing at us, those of us who spoke Arabic kept saying, 'We are Somalis!'"
After the attack, the vessel docked at Hodeida port of Yemen, carrying either survivors or the dead. Daoud Fadel, head of the port, said. "We couldn't find a place to put the bodies, so we had to put them in the place where we store the fish."
"Under the laws of war, attacks against civilians that are deliberate or reckless are war crimes," HRW said.
Three days after the attack, the UNHCR urged all parties of the Yemeni war to launch proper inquiries to "ensure accountability and to prevent this from happening again." It also noted that "many questions remain unanswered on the circumstances of this horrific event."
Two years since the outbreak of the conflict, Human Rights Watch said it has documented 62 "apparently unlawful coalition airstrikes, some of which may amount to war crimes that have killed nearly 900 civilians."