'We reached our limits': Greece to stop taking back refugees – migration minister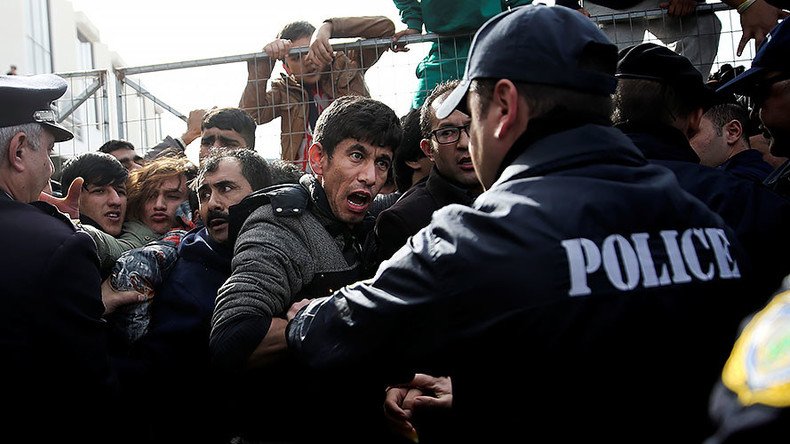 Greece will cease taking back refugees under the controversial Dublin Regulation, as the country's limited capacities to host people are already on the brink of collapse, the Greek migration minister announced in an interview.
As the European Commission pressures Athens to re-implement the Dublin Regulation – stipulating that refugees can be returned to the first EU state they arrived in – the Greek migration minister told Spiegel his country is not in a position to do so. The agreement was put on hold for Greece back in 2011 over problems in the country's asylum system.
"Greece is already shouldering a heavy burden," Ioannis Mouzalas, the migration minister, said.
"We accommodate 60,000 refugees... and it would be a mistake to make Greece's burden heavier by the revival of the Dublin agreement," he said, also adding that Germany, the primary destination for most refugees, "wants countries where refugees arrive first to bear a large portion of the burden."
Under the Dublin Regulation, the European state where the asylum-seeker first arrives in the EU is responsible for examining an asylum claim. Refugees are fingerprinted in their first country of arrival to ensure irrefutable evidence of their entry.
However, rights groups warn that imminent transfers from other EU countries back to Greece in line with the regulations are likely to cause more refugees than ever to go underground in western European countries, as many are desperate to stay there because of family links or successful attempts to start a new life. The scheme also adds even greater pressure to existing refugee facilities in Greece and beyond.
Asked if Athens is ruling out implementation of the Dublin Regulation, Mouzalas answered in the affirmative, adding, "I want the Germans to understand that this is not because of political or ideological reasons, or failure to appreciate Germany's assistance."
"Greece simply has no capacities to cope with additional arrival of refugees," he said. "We've just pulled ourselves together, so please, don't make us falter again."
At this stage, Mouzalas said, Greece is ready to accommodate only a small number of refugees as a symbolic gesture, showing "that we're not opposed to the Dublin agreement." Greece "reached its limits" and "we can't bring in a single refugee," he reaffirmed, appealing "to the common sense of Europe."
READ MORE: Merkel, Rutte agreed refugee quota in deal with Turkey, did not tell other EU leaders – report
Two years after the heavy influx of refugees into Europe, thousands of people still remain stranded on several Greek islands, including the island of Lesbos, which has seen numerous demonstrations involving migrants and local activists opposed to the poor living conditions and treatment of refugees.
Earlier in March, several rights groups, including HRW and Oxfam, urged the Greek parliament in an open letter not to stick to the EU's proposals, which would complicate removing refugees from overcrowded islands to mainland Europe.
The EU proposal "would mean that significantly larger numbers of people would be required to remain on the islands for prolonged periods of time to go through admissibility procedures that have proven slow," the open letter warned.
"We fear that this would have negative impacts on the safety and wellbeing of vulnerable asylum seekers while putting further undue pressure on the islands' population causing additional overcrowding."
You can share this story on social media: