Lesbos activists, migrants march against EU-Turkey asylum deal & deportations (VIDEO)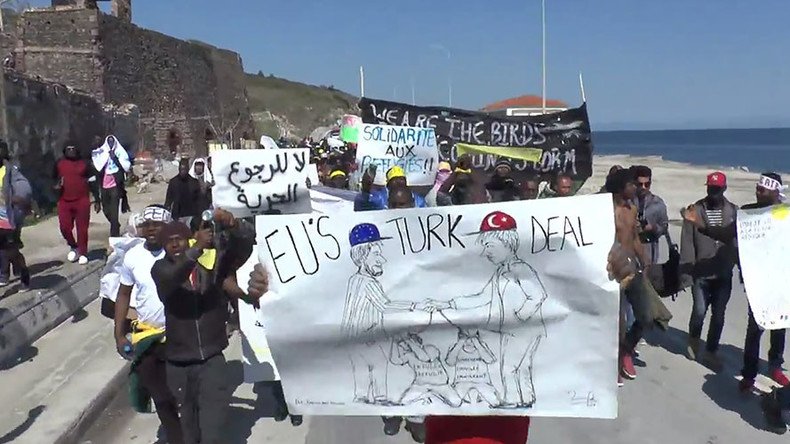 Hundreds of local activists on the Greek island of Lesbos have taken part in a pro-refugee demonstration, calling on Athens and Brussels to scrap the deal with Turkey, stop deportations, and allow migrants into the country.
Waters off the Greek island of Lesbos are notorious for human tragedy, as hundreds have drowned struggling to reach Europe. To honor those who died and to protest against the living conditions for those being cared for on the island, hundreds of locals and refugees marched in Mytilene on Saturday.
Protesting against the EU-Turkey refugee agreement, the protesters marched with banners and flags chanting "freedom," demanding the closure of the Moria detention facility.
The Moria camp on the Greek island of Lesbos is one of the country's biggest centers for refugees. Ever since the EU and Turkey deal, refugees arriving on the Greek islands are immediately detained. Once on Greek EU shores, those who survived the journey from Turkey enter a lengthy asylum process. Most do not qualify and are deported back to Turkey. The deal, which came into effect in March, has turned Lesbos into an open-air prison, with thousands of refugees stranded on the island and living in facilities that are suited for roughly 3,500.
In a peaceful demonstration with slogans for open borders and ending deportations, locals entertained the marchers with music from their homelands as demonstrators marched in the vicinity of Mytilene market and the waterfront. Once the procession of around 500 people arrived at Sappho square, activists cooked and offered food to refugees and migrants.
The EU-Turkey refugee deal was signed one year ago. Under the agreement, Greece is allowed to return all "irregular" migrants to Turkey and in return, EU member states are to orderly resettle more of the Syrian refugees living in Turkey.
In return for their care for the roughly three million Syrian refugees, the EU promised to accelerate Turkey's EU membership negotiations. Brussels has also promised visa-free travel for Turkish nationals within the Schengen area.
While the deal includes a €6 billion ($6.8 billion) aid package for Turkey, it has so far received only €677 million.
Dissatisfied with the pace of the refugee deal implementation, Ankara has repeatedly threatened to scrap it and unleash a flood of migrants into Europe unless Brussels honors its end of the bargain. Just this week, Turkey's interior minister said his country could send 15,000 refugees a month to Europe, to "blow its mind."
READ MORE: Turkey further away from EU accession 'than ever before' – German FM
"I'm telling you, Europe, do you have that courage? If you want, we could open the way for 15,000 refugees that we don't send each month and blow your mind," Süleyman Soylu said late Thursday, according to Hurriyet Daily.
You can share this story on social media: