Bizarre Auschwitz death camp protest sees naked protesters slaughter sheep & chain themselves up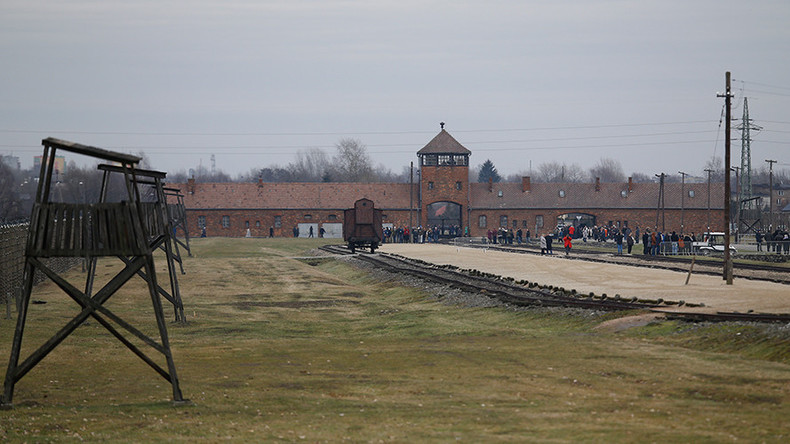 Eleven young people have been detained at the notorious Auschwitz-Birkenau concentration camp in southern Poland after they slaughtered a sheep, took their clothes off and chained themselves up, all the while giving no indication as to their motive.
Young people, aged between 20 and 27, killed a sheep, took their clothes off and then handcuffed themselves in front of the camp's notorious sign saying "Arbeit macht frei" (Work makes you free"), the museum said in a statement, according to Krakow.Onet.
All of the participants have been detained. The group reportedly used a drone to record the action.
"The individuals will be transferred to a police station for questioning. A large group of police officers are at the scene," police spokeswoman Malgorzata Jurecka said, according to AFP.
The group of offenders could face a fine, but police also did not rule out other charges.
"We will decide on this after we have gathered all pieces of evidence," Jurecka said.
The young people currently are being detained for 48 hours, Deputy District Attorney Mariusz Slomka said. Their motives are yet to be established.
"This is the first time something like this has happened at Auschwitz," museum head Piotr Cywinski said, according to AFP. "I have no idea what their motives were," he added.
Poland's chief rabbi, Michael Schudrich, condemned the action, saying it was wrong – regardless of the motives.
"Any use of Auschwitz for political statements, even using Auschwitz for moral statements, is not how Auschwitz should be remembered," he said.
"The Germans used Auschwitz to try to eliminate the Jewish people. Any happenings are a desecration of the memory of all those killed at Auschwitz, Jews, Poles, Soviet prisoners of war, Roma and others," Schudrich added.
The camp was set up in 1940 following Hitler's order to hold Polish political prisoners, who began arriving in May after Nazi Germany had occupied Poland. In early 1942 trains started delivering Jews that were killed at the camp's gas chambers. A total of 1.3 million people were sent to the camp and at least 1.1 million of them died there.
READ MORE: German politician appeals sentence over Nazi & Auschwitz tattoos, gets harsher punishment
Those who were not killed in the gas chambers died of starvation, forced labor, diseases, individual executions, or during the Nazi medical experiments.
The prisoners remaining at the camp were liberated in January 1945 by the Soviet troops. The Auschwitz-Birkenau State Museum was founded in 1947, and in 1979, it was put on the UNESCO list as a World Heritage Site.