Pope Francis: EU 'risks dying if it loses direction'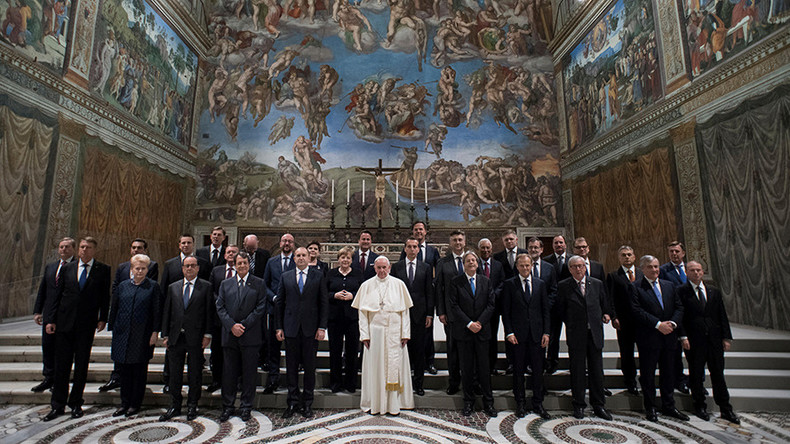 The Pope has condemned the rise of nationalism and anti-immigrant populism in Europe and has urged EU countries to show unity, as representatives from the 28-nation bloc gather to mark the 1957 Treaty of Rome.
READ MORE: Balkans to face new war if EU collapses: Juncker warns US against anti-European stance
March 25 marks 60 years since six countries – Belgium, France, Italy, Luxembourg, West Germany and the Netherlands – signed the treaty, setting up the European Economic Community (EEC), which later gave rise to the European Union in 1991. Though the union is often credited with bringing peace and prosperity, recent challenges such as rising unemployment, austerity, Brexit and the ongoing migrant crisis have threatened the European project.
As 27 EU heads of state gathered to mark the occasion, Pope Francis addressed them in the Vatican, warning them not to lose focus.

"When a body loses its sense of direction and is no longer able to look ahead, it experiences a regression and, in the long run, risks dying," Pope Francis said in his Friday address.

With Britain exiting the EU and Eurosceptic parties such as the National Front in France and Alternative for Germany (AfD) on the rise, Pope Francis urged an end to divisions on the continent.
READ MORE: 'Expect post-Brexit hostility,' Trump adviser Bannon warns EU – reports
"It helps to keep in mind that Europe is a family of peoples and that – as in every good family – there are different sensitivities, yet all can grow to the extent that all are united."
"Europe finds new hope in solidarity, which is also the most effective antidote to modern forms of populism."
The Pontiff has also been outspoken about the prejudice faced by refugees and asylum seekers, and took the time to criticize the EU's response to the migrant crisis, comparing it to the mass movement of people after and during the Second World War.

"Where generations longed to see the fall of those signs of forced hostility, these days we debate how to keep out the 'dangers' of our time: beginning with the long file of women, men and children fleeing war and poverty, seeking only a future for themselves and their loved ones," Francis said.

"Europe finds new hope when she refuses to yield to fear or close herself off in false forms of security. Quite the contrary, her history has been greatly determined by encounters with other peoples and cultures; hers is, and always has been, a dynamic and multicultural identity."
READ MORE: 'Where are you going, Europe?' EU chief Juncker unveils five post-Brexit scenarios
According to Francis, "it is not enough to handle the grave crisis of immigration of recent years as if it were a mere numerical or economic problem, or a question of security."

Security has been tightened up around Rome in the wake of the recent terrorist attack in London. A total of 5,000 officers have been drafted in from around the country to help guard the capital, some of whom will be in civilian clothes. Thousands of anti-EU protesters are also expected to take to the streets, with at least six different rallies planned by various groups across both the left and the right, demonstrating against various aspects of EU rule.