Pro-EU rallies gather thousands in dozens of cities across Europe (PHOTOS, VIDEO)
Published time: 20 Mar, 2017 10:13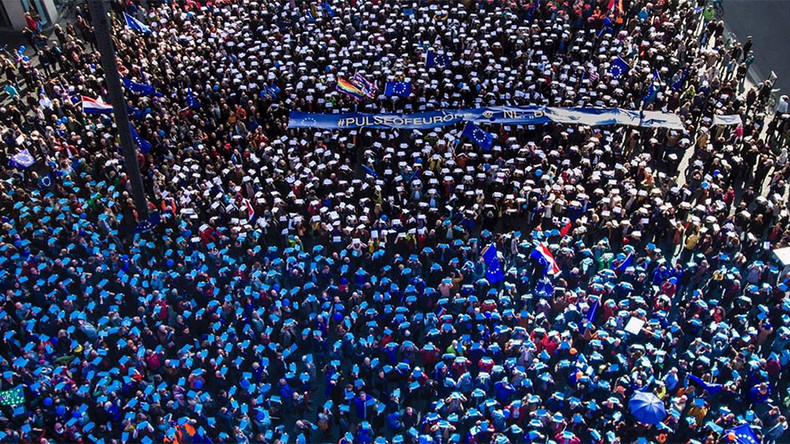 Thousands of people have gathered in Germany and some other European countries on Sunday for a weekly rally to support the EU against what they see as a threat of political radicalization and nationalism to European unity.
People waving blue EU flags marched in Berlin, Frankfurt, Cologne and dozens of other locations, according to Associated Press and photos posted on social media.
Berlin police said some 2,000 people participated in the event, compared to 4,000 claimed by the organizers. In Frankfurt, 3,000 showed up, according to a police estimate cited by Die Zeit newspaper.
The rallies held each Sunday are organized by a group calling itself 'Pulse of Europe', which purports to be an apolitical grassroots movement to preserve the European Union. Members have been gathering every Sunday since mid-February for thousands-strong rallies.
The latest demonstrations last week gathered some 20,000 people across Europe, according to the organizers. The group lists some 60 cities, most of them in Germany, as participating in the movement.
The movement was started in the wake of Brexit vote in Britain and the election of Donald Trump as US president. Organizers say Europe needs gestures of solidarity this year and that they will continue to gather every weekend at least until the general election in Germany in September.
"There has been an alarming increase of radicalization in political life. After the vote for Brexit and the election of Trump, however, we must not remain in shock," the group writes on their website. "We are convinced that the majority of people believe in the fundamental idea of the European Union and its reformability [sic] and development and does not want to sacrifice it to nationalist tendencies."