'Windows were shaking': Terrifying eyewitness stories as munitions inferno rages in Ukraine (VIDEO)
Published time: 24 Mar, 2017 04:15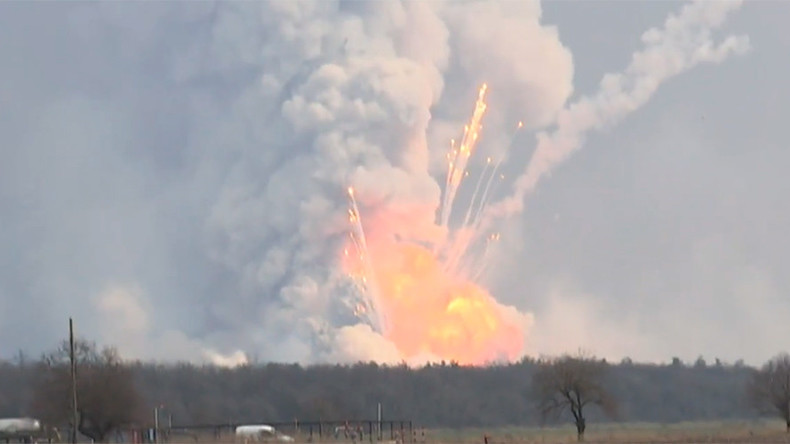 Powerful explosions forced thousands of people living in the Ukrainian city of Balakleya to abandon their homes on Thursday night as a large ammunition depot went up in flames. Evacuees shared stories of chaos, fear and confusion with RT.
The latest footage from RT's video agency Ruptly shows scores of cars crammed along the side of the road outside Balakleya, located in the Kharkov Region. The majority of about 30,000 people living in the city had to use their vehicles as shelters while the emergency services struggled to contain the fire that has engulfed half of the depot, triggering a chain of ongoing explosions.
An enormous inferno with volcano-like bursts scattering projectiles can be seen in the background.
Whole families, including the elderly and children, were waiting for permission to return home, while relying on dry snacks, canned food and bottled water. The majority of residents were evacuated overnight, soon after the first blasts shook the town at 3am local time and before the area was put on lockdown and a 7-kilometer safety zone was enforced.
Witnesses say several roofs were blown off residential buildings and many windows were shattered by blast waves or exploding munitions. At least one house was seen caught up in the flames. There have been also reports of looting and theft.
While the exact damage to homes is still difficult to estimate, residents believe it will be a challenge for them to return to normal life.
"It is very scary to go through this and go on living – to lose your job, house, flat – lose everything which has been earned over the years," a local resident, who was working at the now devastated depot, told Ruptly.
"It happened at night. I heard some noise or shooting, looked out of the window and got up to hear the alarm. We took all we could and rushed into the basement to hide," the man said, adding that they had to wait for a friend with a car to arrive to get them out of the city.
"It was scary, very scary."
People did not have much time to pack after they heard the blasts.
"What could we possibly take with us? It took us about two minutes to get dressed and get out. It was very frightening. Our windows were shaking," a woman recalled.
According to estimates by the Ukrainian authorities, it may take as long as a week for the munitions to stop detonating at the burning site. The losses to Ukraine's arsenals are still to be evaluated after the fire subsides.
"We need several more days…The situation can continue for three up to seven days," Ukrainian Prime Minister Vladimir Groysman, who arrived in Balakleya on Thursday, told journalists.
Dozens of fire engines and heavy machinery have been stationed near the depot and a tent camp has been set up.
Ukraine's military prosecutor Anatoly Matios attributed the large-scale incident at the depot that hosts nearly 140,000 tons of ammunition to sabotage, citing preliminary data. An investigation into the causes is under way.