'Extremist, sexist, xenophobic:' Eurogroup chairman refuses to step down over remarks
Published time: 23 Mar, 2017 15:07
Edited time: 24 Mar, 2017 16:12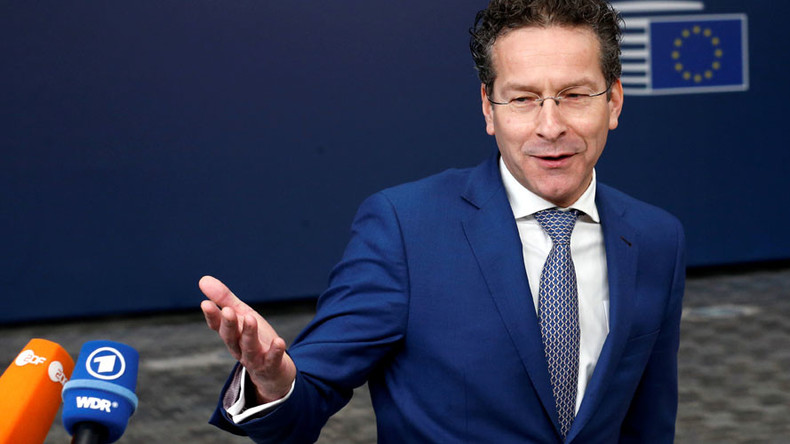 Eurogroup chairman Jeroen Dijsselbloem, who is under fire over comments suggesting southern European countries had wasted crisis aid money on "booze and women," has rejected widespread calls for his resignation.
Portugal's prime minister, Antonio Costa, lambasted Dijsselbloem's remarks as "racist, xenophobic and sexist," noting that Europe would lose credibility if he did not resign.
"Europe will only be credible as a common project on the day when Mr. Dijsselbloem stops being head of the Eurogroup and apologizes clearly to all the countries and peoples that were profoundly offended by his remarks," Costa said, as cited by Reuters.
Former Italian Prime Minister Matteo Renzi also called on Dijsselbloem, who has been Eurogroup head since 2013, to step down.
Dijsselbloem "missed an excellent opportunity to be silent," Renzi wrote on Facebook. "The sooner he resigns, the better. For him, but also for the credibility of the European institutions."
"If he wants to offend Italy, he should do it at the sports bar under his house, not in his institutional role,"Renzi noted on Wednesday.
In an interview with German newspaper Frankfurter Allgemeine Zeitung, published on Monday, Dijsselbloem said that "during the euro zone crisis, northern European countries had shown solidarity with the south."
"As a social democrat, I think that solidarity is extremely important," he noted.
"But whoever benefits also has obligations…
"I can't spend all my money on booze and women, and then ask you for your support. This principle applies to personal, local, national, and even European levels," he concluded.
Esteban Gonzalez Pons, a Spanish lawmaker in the European Parliament, called the Eurogroup chairman's remarks "a racist and male-chauvinist insult to the southern countries, and their women," Reuters reported.
Greek government spokesman Dimitris Tzanakopoulos said Dijsselbloem's comment "adopts stereotypes that widen the chasm between north and south and lays out the carpet for extremist views, not to mention sexist overtones."
Sven Giegold, economic and finance spokesperson for the Greens/European Free Alliance group in the European Parliament, called Dijsselbloem's behavior "shameful," while European Competition Commissioner Margrethe Vestager said his comments were utterly "wrong," the Frankfurter Allgemeine reported.
Following an avalanche of public outrage, the Dutchman said his words were "misunderstood and misinterpreted," adding that his remarks could be explained by "strict Dutch, Calvinistic culture, with Dutch directness."
"I understand that this is not always well understood and appreciated, elsewhere in Europe," Dijsselbloem, whose term ends in January 2018, said, adding that he had no intention of quitting.
"That is another lesson I take on board," he said on Wednesday, according to Reuters.
A spokeswoman for German Finance Minister Wolfgang Schaeuble said that "We expect, so long as this [Dutch] government is in office, that we will have a fully functioning Eurogroup chair," noting that she doesn't "award marks for style in interviews."
This is not the first time Dijsselbloem has been in hot water over his straightforward remarks. Speaking on Dutch television in 2014, he called European Commission head Jean-Claude Juncker a heavy drinker and smoker. Juncker dismissed the allegations.