'False image of reality': Pope Francis castigates social media & reality TV
Published time: 22 Mar, 2017 18:52
Edited time: 23 Mar, 2017 09:22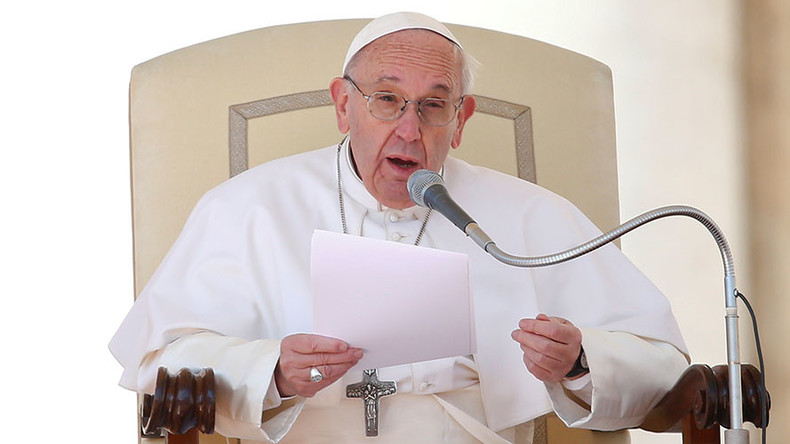 Pope Francis has said that social media and reality TV distort people's perception of life, and rob it of meaning, and has urged their consumers to take control of their own destinies, rather than following the lives of others.
"In the social media, we see faces of young people appearing in any number of pictures recounting more or less real events, but we don't know how much of all this is really 'history', an experience that can be communicated and endowed with purpose and meaning," the 80-year-old Pontiff said in a message recorded for World Youth Day on April 9.
"Television is full of 'reality shows' which are not real stories, but only moments passed before a television camera by characters living from day to day, without a greater plan."
"Don't let yourselves be led astray by this false image of reality! Be the protagonists of your history; decide your own future," urged the Pope.
In what was perhaps the most nuanced recent critique of social media from such a prominent public figure, Pope Francis said that those who claim that "young people are distracted and superficial… are wrong," but claimed that many are living vicariously through others.
"To have a past is not the same as to have a history," said the Pontiff. "In our life, we can have plenty of memories, but how many of them are really a part of our memory? How many are significant for our hearts and help to give meaning to our lives?"
As well as making a mark in the world, the Pope urged young people to reflect by keeping a private diary, and to acquire more of their sense of the world not from public media, but from their family.
"The young mother of Jesus knew the prayers of her people by heart. Surely her parents and her grandparents had taught them to her. How important it is for the faith to be passed down from one generation to another," said the Pope.
While criticizing the excessive use of social media, the Pope doesn't shun the reach it provides. He runs a popular Twitter account, established by his predecessor, Benedict, whom he replaced in 2013, and has registered a popular Instagram page.
Last month, Pope Francis used Twitter to express a precursor to his address, posting that "the value of example… is more powerful than a thousand words, a thousand 'likes,' retweets or YouTube videos." That got over 56,000 likes and 24,000 retweets.
Do not underestimate the value of example, for it is more powerful than a thousand words, a thousand "likes", retweets or YouTube videos.

— Pope Francis (@Pontifex) February 23, 2017
Last month, Patriarch Kirill, the head of the Russian Orthodox Church, also spoke out against social media, saying that the chase for "likes" has become a "social disease," and particularly warning Russians to avoid risking their own lives in dangerous stunts, just to attract attention on Instagram and YouTube.