'Fully ready to be lethal': US-led NATO battalion to be deployed to Poland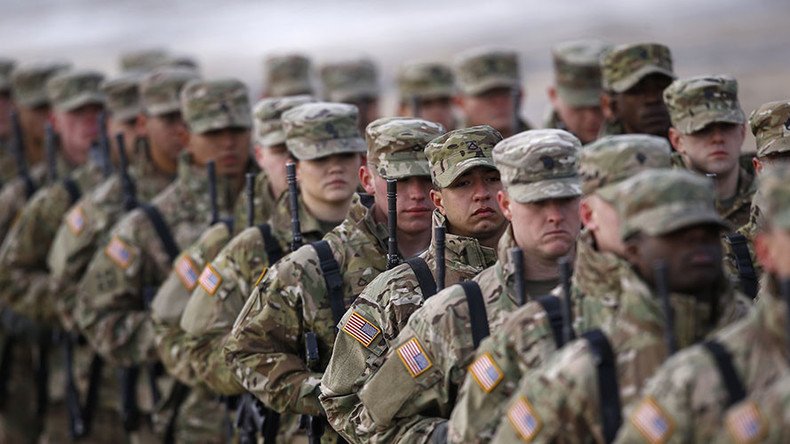 A US-led battalion of over 1,100 soldiers will be deployed in Poland in the beginning of April to deter what is said to be possible Russian "aggression," with the unit's commander stressing that his troops are ready to use lethal force.
The NATO battle group to be stationed in Orzysz, 220 kilometers northeast of the capital, Warsaw, will include more than 900 American troops, around 150 British personnel and some 120 Romanian servicemen, Reuters reported.
GREAD MORE: German military says 'no debt account at NATO' after Trump's 'vast sums' comment
"This is a mission, not a cycle of training events. The purpose is to deter aggression in the Baltics and in Poland," US Army Lt. Col. Steven Gventer, the battle group's commander, said.

"We are fully ready to be lethal," Gventer said during a press conference on Monday.
Another of the battle group's high-ranked officers, US Army Major Paul Rothlisberger, added that April's deployment is "not the entirety of NATO's response" to Moscow.

The battle group is being deployed in Poland in line with the decision to place four multinational battalions in the Baltics, agreed by NATO last year.
It will see around 4,000 NATO troops with tanks, armored vehicles, air support and high-tech intelligence centers arriving in Poland, Latvia, Lithuania and Estonia.

The three other battle groups will be headed by Britain, Canada and Germany, with other NATO members, including France, also making their contribution. They are expected to be operational by June.

The buildup near Russian borders is explained by NATO as being due to the need to reassure the bloc's eastern European allies in view of Russia's reunification with Crimea, Moscow's alleged involvement in the Ukrainian conflict and what NATO calls overall "aggressive" behavior by Russia.
READ MORE: US landing ship with marines enters Black Sea for drills with Romanian navy
Russia has repeatedly criticized NATO's buildup in Eastern Europe, which it views a threat to its national security.

In February, Russian President Vladimir Putin blamed NATO for endangering global peace by trying to provoke a conflict with Moscow through its "newly-declared official mission to deter Russia."

Earlier, Russian Deputy Foreign Minister Aleksey Meshkov warned that "the steps by NATO gravely increase the risk of incidents" between the alliance and Russian forces.

Apart from the buildup on its borders, Moscow is also concerned by the new US ground-based missile defense system in Eastern Europe and increased presence of NATO vessels in the Black Sea.
You can share this story on social media: