Trust in news stories on Facebook depends more on who they're shared by, not who wrote them – study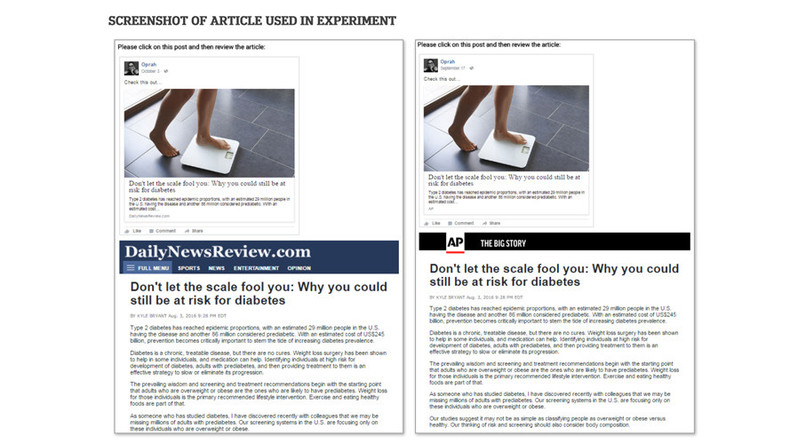 Social media users are becoming increasingly skeptical about news outlets, and now decide whether to believe a story based on whether a person they trust has shared it, not where it came from, says a landmark US study.
"The experimental results show that people who see an article from a trusted sharer, but one written by an unknown media source, have much more trust in the information than people who see the same article from a reputable media source shared by a person they do not trust," write the authors of the research, conducted by the Media Insight Project.
For the experiment, the authors took a real news article about diabetes, and placed it in a simulated Facebook feed in front of 1,489 adult Americans. But while the text was the same for all participants, several things were different.
For some users, clicking on the article produced a link to AP, a real news agency, for others DailyNewsReview.com, a fake website, made up for the experiment.
The article also appeared on the participants' feeds as if it were shared by one of eight different people, from Oprah Winfrey to the US surgeon general. Before starting the survey, respondents were asked how much they trusted each of the eight public figures.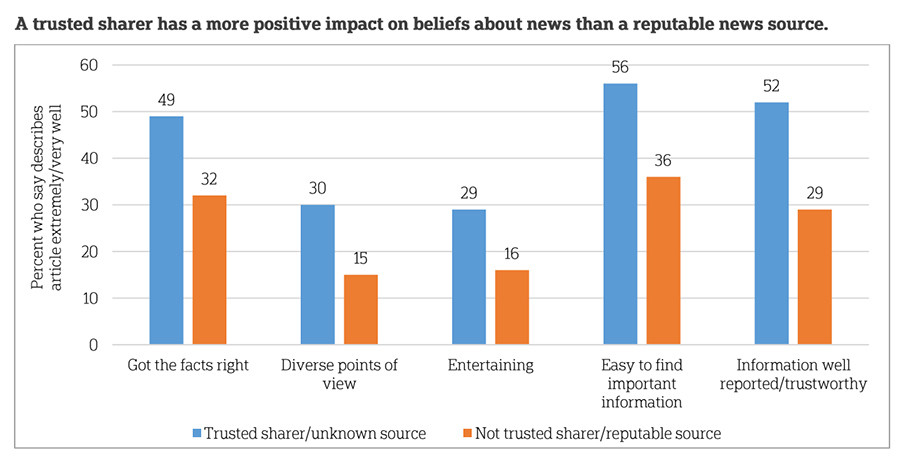 The results were stark: 49 percent said that a story from a fake news site was accurate because it was shared by a celebrity they trusted. On the other hand, only 32 percent believed the same story from a real news source when it was shared by a famous person that had no credibility with them.
In fact, only about two in 10 people even noticed the site where the story appeared, but about half remember who it was that shared it.
And this had a snowball effect, with users themselves more likely to share the article, and even sign up to the source of the news story, if they had faith in its conduit.
Interestingly, the results contradict what people claim themselves about their news consumption habits. In another study last year, by the Media Insight Project, which is funded by the American Press Institute and the Associated Press-NORC Center for Public Affairs Research, 66 percent of Facebook users said they cared about the news sources when reading an article, and only 48 percent stated that the sharer was important.
The latest research also appears to show that while social media has made it easier for public figures to contact their audiences directly, for the news media, which used to simply deliver news straight into people's TV screens and morning papers, it's become more of a challenge to get their message across, as it is now being mediated along the way.
"All of this suggests that a news organization's credibility both as a brand and for individual stories is significantly affected by what kinds of people are sharing it on social media sites such as Facebook," write the authors. "Your readers and followers are not just consumers to monetize, instead they may be social ambassadors whose own credibility with their friends affects your brand's reputation."
One of the reasons why people are now going by personal recommendation rather than by name of outlets – something exploited well by, for example, Donald Trump, who often shares articles from relatively niche news sources to his loyal army of followers, who then retweet them in numbers – appears to be overall skepticism about the news people see on social media.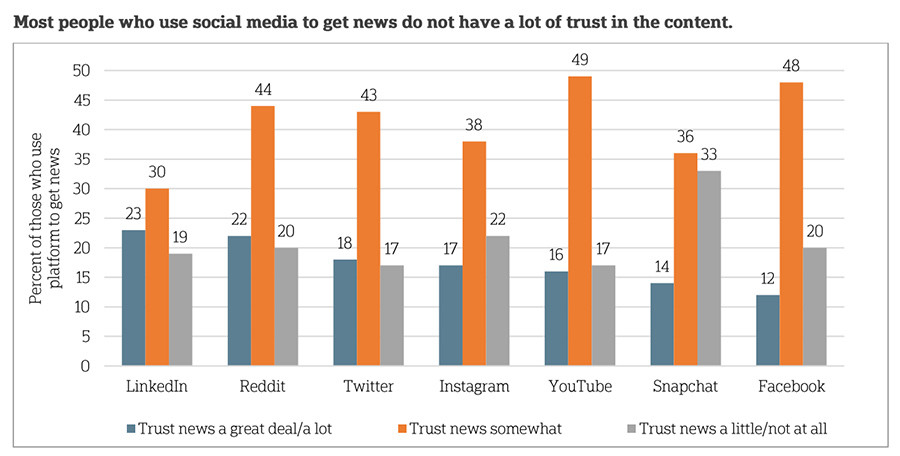 A study published by the same group last year showed that less than a quarter of social media users can say that the news they read in their feeds "can be trusted a great deal." Even on the network considered most reliable, LinkedIn, only 23 percent said that they trusted the news they saw "a lot," while Facebook was seen as the least reliable source of news, with only 12 percent of users claiming that it had a great deal of credibility.