Europeans 'would revive gas chambers if they weren't ashamed' – Erdogan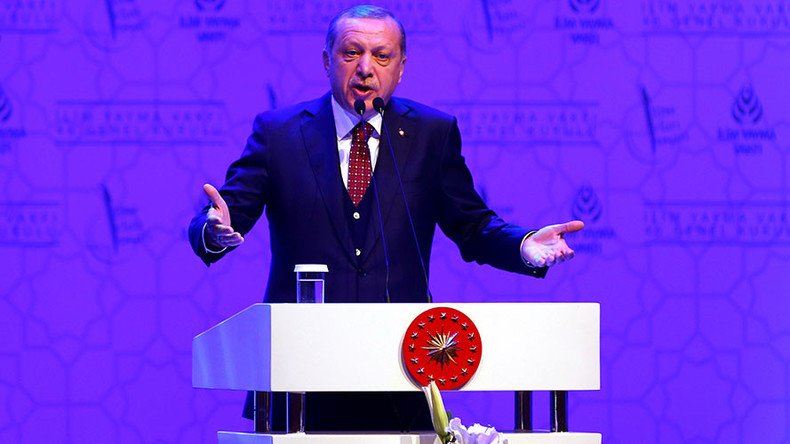 Turkish President Recep Tayyip Erdogan has once again compared Europe with the Nazis saying that they "would revive gas chambers" if they weren't ashamed. He also fired a personal broadside at Angela Merkel, accusing her of "Nazi practices."
Europe's "masquerade ball" is over, Erdogan said at yet another demonstration in Istanbul on Sunday, where he rallied support for a 'Yes' vote in Turkey's upcoming constitutional referendum.
Saying the "struggle" against his country has reached a new level, Erdogan slammed European nations, particularly Germany and the Netherlands, for their "Nazi regulations" as they revealed "the hatred they have accumulated for years against our country, our nation or even against all Muslims on TV screens and newspaper headlines every day."
Erdogan then dropped the hammer, "If they weren't ashamed, they would revive the gas chambers," he added as quoted by the Hurriyet Daily News.
The Turkish president then turned his sights on the German Chancellor Angela Merkel. "When we call them Nazis they [European politicians] get uncomfortable. They rally together in solidarity. Especially Merkel," Erdogan said as cited by AFP.
"Merkel. She backs [the Netherlands] too. You too are practicing Nazi practices. To whom? To my Turkish brothers and sisters in Germany," the Turkish leader also said as quoted by the AP.
He used an informal form of "you" in Turkish.
Erdogan declared that the current policy of a number of European states is based on fear of Turkey's power. "They [European states] do not have the urge to hide their intentions and cannot hide the discomfort they feel from Turkey, which is growing stronger," Erdogan said, as cited by Reuters.
Turkey summons German ambassador over Kurds' rally
The comments come as the Turkish Foreign Ministry summoned the German ambassador to express Ankara's anger over a Kurdish rally held in Frankfurt on Saturday. The Turkish president's spokesman Ibrahim Kalin also called Germany's actions "a worst example of double standards."
"The German ambassador was invited, summoned, to the Foreign Ministry and this [rally] was condemned in the strongest way," he said as reported by Deutsche Welle.
The spokesperson added that the "scandalous" event in Frankfurt shows that European countries are in fact actively campaigning against Turkey's constitutional reform.
"It is unacceptable to see the symbols and slogans of the [outlawed Kurdistan Workers' Party] PKK [at a rally in Frankfurt] while Turkish ministers and politicians are barred from meeting with their fellow citizens," Kalin told in an interview to CNN Turk.
Around 30,000 Kurdish supporters took to the streets in Frankfurt on Saturday to denounce the Turkish president and the upcoming referendum which seeks to expand his presidential powers.
Scheduled for April 16, the plebiscite proposes amendments to the constitution that will make Erdogan the sole executive head of state, with the authority to choose his own cabinet ministers, enact laws, call elections, and declare states of emergency.
Turkish officials have been seeking meetings with Turks living in Europe ahead of the referendum hoping to get the support of the strong diaspora — in Germany alone, there are 1.5 million people with Turkish citizenship. But these plans did not go down well with the European authorities.
In early March, Turkey's Justice Minister Bekir Bozdag pulled out of a scheduled visit to Germany, after a small town in German south-western region of Baden-Wurttemberg denied him the chance to address his countrymen.
The city of Cologne canceled a similar event, where Turkish economy minister Nihat Zeybekci was due to speak. Ankara also summoned the German ambassador at that time.
Pro-referendum rallies were also canceled in Austria and Switzerland, while the Netherlands barred a plane carrying Turkey's Foreign Minister from landing ahead of an event in Rotterdam. This provoked an angry reaction in Turkey, who accused the EU of "selective democracy and xenophobia."
You can share this story on social media: