Period of 'estrangement': Juncker complains about Trump's protectionism & chill in US-EU relations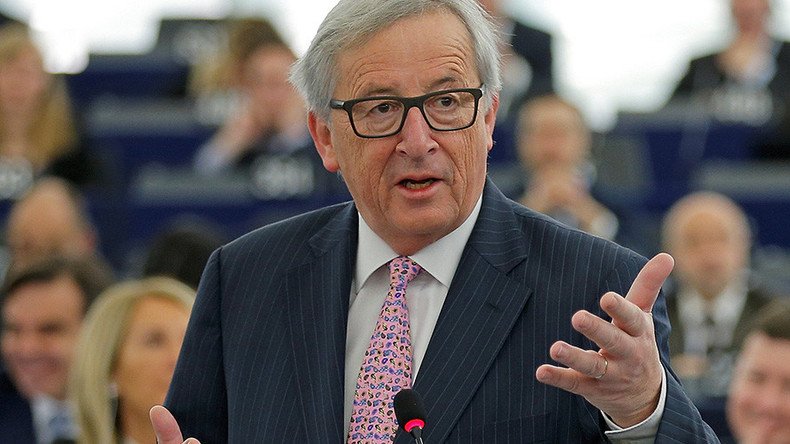 EU-US relations are at historic lows because of the policies of the new US President Donald Trump, Jean-Claude Juncker, the head of the European Commission, has said in an interview with the Bild am Sonntag newspaper.
Interactions between the US and Europe "have entered a sort of a [period of] estrangement," Juncker told the German publication, lamenting the cooling in relations between the two strategic partners.
The European Commission president went on to denounce Trump's approach to relations with Europe as ridiculous. The fact that Trump welcomes Brexit and urges other states to follow suit shows that he has "an uncanny approach" towards relations with the EU, he said, adding, that this situation "requires intensive negotiations."
Juncker also warned of a potential trade war between the US and the EU. Europe "must take the protectionist rhetoric of the Trump administration seriously and be prepared," he told Bild am Sonntag.
He particularly implied that the US could impose punitive tariffs on European products, thus provoking the EU to impose its own punitive tariffs on US goods and effectively igniting a trade war, the German media outlet reported.
Juncker warned that "a trade war would neither be in Europe's nor the USA's interests."
In February, Trump threatened to impose a 35 percent border tax on German car imports, specifically mentioning BMW, Daimler, and Volkswagen, as part of his strategy to shift industrial jobs to the US from Mexico, where all three carmakers have factories.
Trump also raised serious concerns about the future of free trade in general after making good on his promise to pull out from the Trans-Pacific Partnership (TPP), which he denounced as a "potential disaster" for the US economy.
Trump even vowed to "renegotiate" the North American Free Trade Association (NAFTA) between the US, Canada, and Mexico.
Trump's message was echoed by the US Treasury Secretary Steven Mnuchin at the G20 ministerial meetings in Germany this weekend.
"We believe in free trade, we are in one of the largest markets in the world, we are one of the largest trading partners in the world, trade has been good for us, it has been good for other people," Mnuchin said, according to Reuters.
"Having said that, we want to re-examine certain agreements," Mnuchin said, adding, that some WTO rules needed to be better enforced while previous agreements may have to be renegotiated.
Following the two-day meeting, the G20 financial leaders in their final communique dropped a pledge to keep global trade free; breaking a decade-long tradition of endorsing open trade.
"This is my first G20, so what was in the past communiqué is not necessarily relevant from my standpoint," Mnuchin said following the negotiations. "I understand what the president's desire is and his policies, and I negotiated them from here," Mnuchin said, noting, that couldn't be happier with the outcome.
"It is not that we were not united," German finance minister Wolfgang Schaeuble said. "It was totally undisputed that we are against protectionism. But it is not very clear what (protectionism) means to each (minister)."
The leaders of G20 are expected to again meet in Hamburg, Germany, in July.
Juncker also drew attention to the fact that Brussels "wants to sign a free trade agreement between the EU and Japan already in this year," adding that he's looking forward to meeting Japanese Prime Minister Shinzo Abe on Tuesday.
READ MORE: Japan wants free trade deal with EU by year-end
Earlier, Trump accused Japan of exploiting a weak yen to score an unfair trade advantage over the US. In a similar move, Peter Navarro, the head of the US new National Trade Council and Trump's top trade adviser, told the Financial Times in late January that Germany is using euro to exploit the US and its EU partners.
You can share this story on social media: