Confirmed: Orly attacker shot & injured police officer north of Paris before going to airport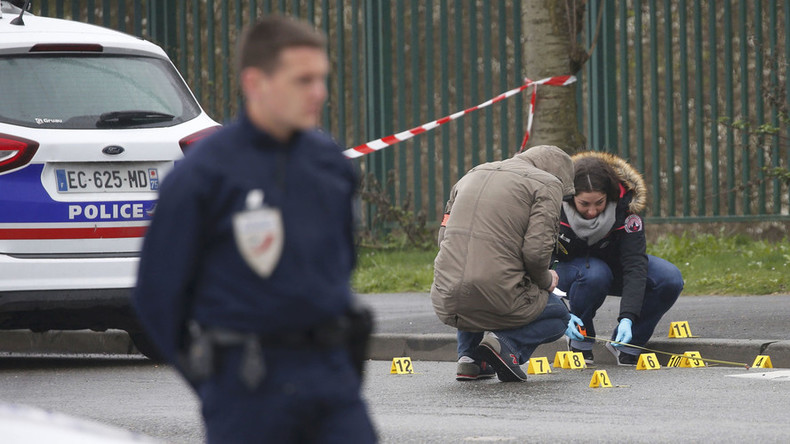 The man shot dead at Orly airport after trying to snatch a weapon from a French soldier had shot and wounded a police officer earlier in Stains, a Paris suburb, France's Interior Ministry confirmed. The assailant's identity had been known to police.
French Interior Minister Bruno le Roux told reporters that the assailant at Paris Orly Airport was the same man involved in an incident that had taken place north of Paris earlier, which left one police officer injured, according to AP.
READ MORE: Man shot dead after trying to steal weapon from soldier at Paris Orly Airport
On peut relier son identité à 1 contrôle d'identité à Garges-Les-Gonesse (95) opéré par une patrouille de Stains ce matin à 06H50

— Ministère Intérieur (@Place_Beauvau) March 18, 2017
Le Roux added that the perpetrator, who was not identified, had hijacked a car and held the driver at gunpoint before being stopped by the patrol in Stains because he was driving too fast.
"His identity is known to police and intelligence services," the minister added.
"This same man - a radicalized Muslim known to intelligence services and the justice system - then took a Famas [assault weapon] from a soldier at Orly's southern terminal ... before being shot dead by a soldier," a police source also told Reuters.
The incident in Stains took place early on Saturday morning, when the car was pulled over for an ID check at around 7am local time, BFM TV reports. The driver showed his license before pulling out a weapon and opening fire on the officers.
The police officer's injuries are not life threatening.
Authorities initially did not link it to the incident at Paris Orly Airport, where a man was shot dead after trying to seize a weapon from a soldier on duty.
You can share this story on social media: