Merkel expected to visit Russia on May 2 – Putin
Published time: 16 Mar, 2017 19:02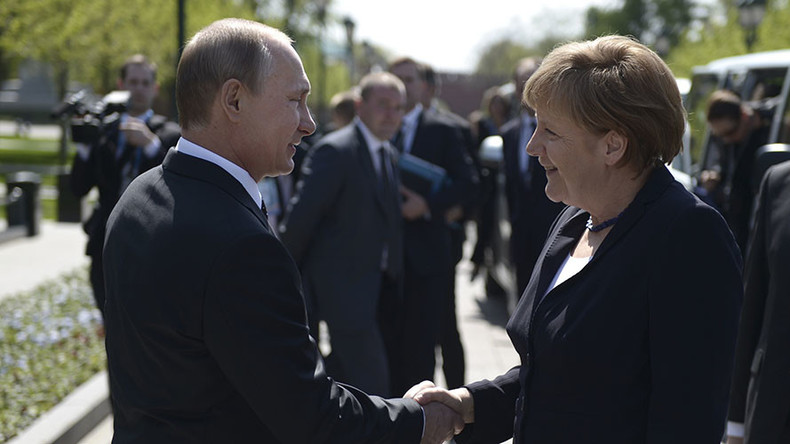 German Chancellor Angela Merkel is expected to visit Russia on May 2, according to Russian president Vladimir Putin.
"Send my best regards to the federal chancellor. We are waiting for Chancellor Merkel to visit on May 2," Putin told Horst Seehofer, Prime Minister of the southern state of Bavaria, during their meeting in Moscow on Thursday.

Seehofer also conveyed Merkel's greetings to President Putin, noting that the chancellor specifically asked him "not to forget to do that."
"She [Chancellor Merkel] said that she would like to visit you at the beginning of May," Seehofer added.
Seehofer also confirmed Merkel's visit on May 2, DPA news agency reported.
Putin first spoke of Merkel's possible visit to Russia last week, during a meeting with German Foreign Minister Sigmar Gabriel. The Russian president said the two countries need to fully normalize bilateral relations.
Earlier, Seehofer and Kremlin spokesman Dmitry Peskov both touched on Merkel's visit to Russia, however, not confirming exact dates.
Peskov also said the two leaders are likely to discuss issues regarding the Ukrainian crisis.
Bavaria's prime minister, who is in Russia on the invitation of Moscow city mayor Sergey Sobyanin, described the visit as "a great opportunity to strengthen traditionally good relations with Russia."
READ MORE: Bavaria to invest €600mn in Russia despite sanctions
Putin said Bavaria ranks first amongst Germany's federal states when it comes to commercial and economic ties with Russia.