Turkish politicians campaigning in EU make economic aid 'extremely difficult' – German minister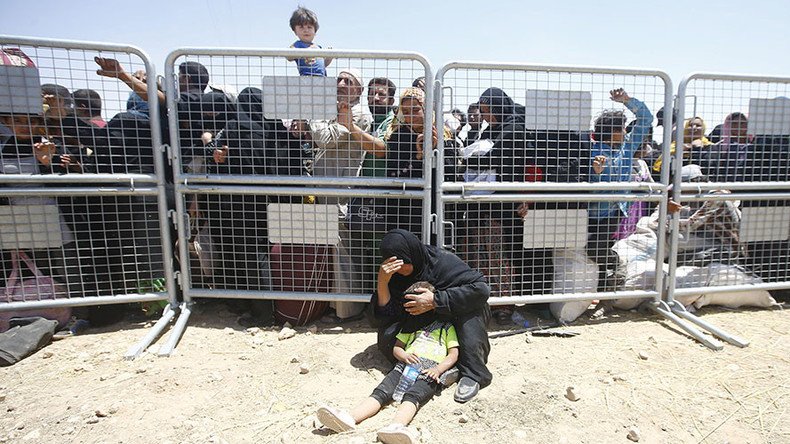 Turkey's row with EU states over banned political rallies by Turkish ministers is making it hard to provide Ankara with financial aid as part of the refugee deal, German Finance Minister Wolfgang Shauble says.
Several cities and towns in Germany, Austria, Switzerland and the Netherlands have recently canceled rallies aimed at Turks living in the EU, or prevented Turkish officials from attending.
The events, organized by Ankara, were meant to be attended by senior Turkish ministers with the aim to promote the upcoming referendum on expanding the powers of Turkish President Recep Tayyip Erdogan.
The cancelations have caused outrage in Ankara, with Erdogan and members of his government accusing EU states of acting like "Nazis" and promising retaliation.
"In these circumstances, it is of course extremely difficult to continue working on that," Schauble told Germany's ZDF channel.
The arrest of German-Turkish journalist Deniz Yucel in Turkey in February was another complicating factor, he added.
Turkey has been receiving funding from the EU, which will reach €6 billion by 2018, as part of the deal to stem the migrant flow into Europe, signed by both sides in March 2016.
Turkey was also promised visa free travel and facilitated talks on joining the EU, but the discussion of those issues remains stalled due to Ankara's refusal to relax its strict anti-terrorism laws as Brussels demands.
READ MORE: Turkish PM's visit to Denmark postponed over referendum rallies row
During the current diplomatic row, Erdogan reiterated his threats to withdraw from the deal and again allow migrants to pour into the EU.
German Interior Minister Thomas de Maiziere also spoke out against Turkish government ministers campaigning in EU countries.
"You have to carefully consider whether one imposes a ban on entry. But there are limits – clear limits – for example, the criminal code: we have provisions in our criminal code," de Maiziere told ARD channel.
"Anyone who insults Germany or its constitutional order and derides it in a malicious way is liable to prosecution. That, at least, would be a limit," he said.
On Saturday, the Netherlands banned Turkish Foreign Minister Mevlut Cavusoglu from landing in Rotterdam, with protests prompted by the move violently dispersed by police.
Turkish Family Minister Fatma Betul Sayan Kaya, who came from Germany to look into the situation, was denied entrance to the Turkish consulate and escorted out of the country.
Ankara responded with more inflammatory rhetoric and some advice for the Dutch ambassador to Turkey, who was on leave, not to return to the country "for a while."
READ MORE: Turkish PM blames diplomatic spat with Dutch on Netherlands' upcoming elections
The events in the Netherlands may be "the final nail in the coffin" of EU-Turkey relations "if President Erdogan follows through on his threats to resume the migrant flow," writer John Wight told RT.
The Turkish leader, who has "been paid quite a lot of money" to stem the flow of migrants, is in "a very strong position in this regard," he said.
According to Wight, the cancelation of Turkish rallies and the clashes afterward are going to play into the hands of far-right politician Geert Wilders, who is neck-and-neck with Dutch Prime Minister Mark Rutte ahead of the Wednesday's general election in the Netherlands.
Banning Turkish ministers from speaking at rallies in the EU is a "black chapter in the history of European democracy," Remzi Aru, founder of the ADD (Alliance of German Democrats) told RT.
"I'm ashamed of the behavior [of] Europe right now toward freedom of speech. Turkish ministers want to come to Europe to speak to their own voters – this is a totally democratic approach. It's very difficult to understand the actions that are right now being taken," he said.
Aru also argued that the dispersal of a Turkish rally in Rotterdam on Saturday resembled Apartheid, the oppression of the black population in South Africa in 1948-91, adding that if Turks pay taxes than they should be allowed to get involved in political life.
This, however, is a controversial idea for the Dutch, some of whom see Dutch Turks rallying for Erdogan as having divided loyalties.
You can share this story on social media: