Turkish rally in Sweden derailed amidst Ankara's referendum row with Europe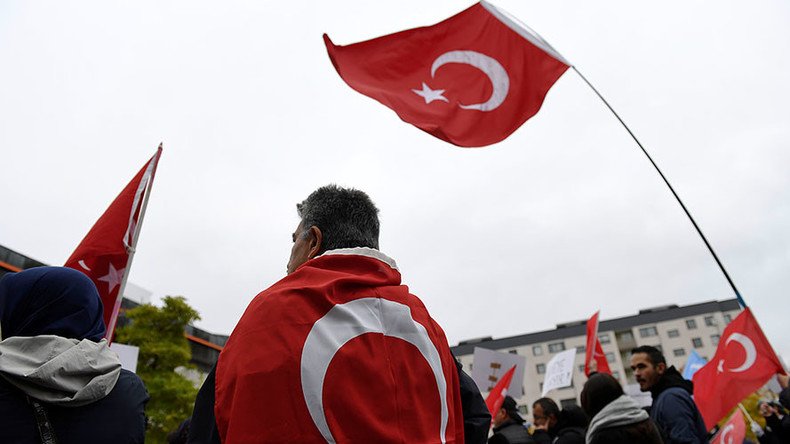 Sweden has joined the ranks of European nations where Turkey is having problems staging rallies for Turkish citizens. The owner of a Stockholm venue has reportedly canceled a rental contract with the Turkish government, derailing a planned rally there.
The owner of the unnamed venue did not cite any particular reason for the move, private Turkish news agency Dogan reported in breaking the news. The rally was scheduled for Sunday.
Meanwhile, in Denmark, Prime Minister Lars Lokke Rasmussen said on Sunday that his planned visit meet with his Turkish counterpart, Binali Yildirim, would be postponed due to Ankara's row with the Netherlands.
Over the past few weeks, events sponsored by the Turkish government in several European countries, including Germany, Austria, Switzerland, and the Netherlands, have been cancelled, or Turkish officials have been barred from attending them.
Amid the latest clash with Amsterdam, Turkish President Recep Tayyip Erdogan branded the Dutch "Nazi remnants."
Erdogan is seeking new presidential powers through a constitutional referendum to be held in mid-April, and his government is trying to whip up support among Turkish citizens living in Europe.
READ MORE: Watch furious Turkish protesters rally in Rotterdam streets amid Dutch row with Ankara (VIDEOS)
The campaign efforts been hampered by authorities in several European states, leading Turkey to claim that there is a concerted effort to undermine referendum among countries that have been critical of Ankara's crackdown on the opposition in the wake of an attempted military coup last year.
You can share this story on social media: