ISIS behind plot to attack Essen shopping mall – German Interior Minister
Published time: 12 Mar, 2017 17:32
Edited time: 13 Mar, 2017 10:48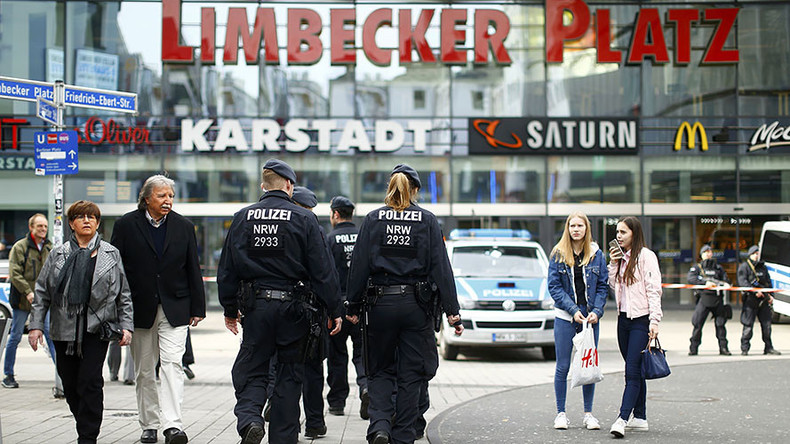 The mastermind behind the planned attack on a shopping center in the west German city of Essen is linked to Islamic State terrorists, German Interior Minister Thomas de Maiziere said in an interview with German broadcaster ARD.
"There is a clear link to the so-called Islamic State, to this terrorist organization," the minister said during an appearance on ARD's "Report from Berlin" show.
"In fact, [the suspects] received instructions and orders from someone who left Germany for the region [controlled by Islamic State]."
De Maiziere added that there was a "strong connection" between the planned attack and IS.
Earlier, German Bild and Westdeutsche Allgemeine Zeitung newspapers as well as the public broadcaster WDR reported, citing unidentified security sources, that an Islamic State fighter of German origin contacted a group of radicals inside Germany and abroad and motivated them to carry out attacks on the shopping mall.
The minister then said that the initial tip-off about the attack was received by the German domestic security service, the BfV, which informed the Essen police department. However, he refused to reveal any further details about the case, citing the secrecy of the investigation that is still ongoing.
He added that the planned attack "was successfully prevented." However, he also warned that the terrorist threat "remains high."
German police earlier detained two men as part of the investigation into the possible attack on the shopping mall. According to Die Welt daily, one of the detained men has been already set free, while the second one is still being questioned.
In the meantime, de Maiziere also said that German police are now investigating known Salafist groups in the German northwest region of North Rhine Westphalia to "find out if they have any connection to this possible attack."
The Essen police department ordered the temporary closure of the shopping mall located at Limbecker Platz in downtown Essen on Saturday after it received a tip-off about a potential attack. Some 100 police officers were deployed to the scene as the area was cordoned off.
The mall, which hosts some 200 stores, occupies 70,000 square meters and is one of the biggest inner-city shopping centers in Germany, remained closed throughout Saturday but will reopen Monday, the venue management said on its Facebook page.
"At the moment, there is no evidence suggesting that our building is under any kind of threat," the statement reads, adding that the mall would enhance security measures anyway "out of caution."
Security has been tight in Germany since a string of lone-wolf terror attacks hit the country last year. A Syrian refugee detonated an explosive device outside a music festival in the town of Ansbach last July, killing himself and injuring 12 others. In December 2016, a Tunisian asylum seeker, who pledged allegiance to Islamic State, plowed a truck into a Berlin Christmas market, taking the lives of 12 people. There have also been an ax assault and a shooting spree recently.