Almost 20,000 Indian women & children victims of trafficking in 2016 – report
Around 20,000 Indian women and children fell victim to trafficking last year, a rise of nearly 25 percent from 2015, a government report said. The numbers may be even higher, however, as sources claim some cases are not covered by the data.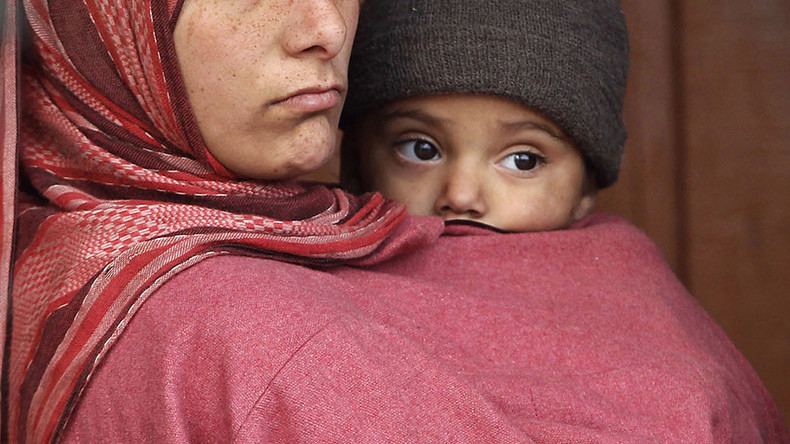 The data compiled by the National Crime Records Bureau (NCRB) was presented by the minister of women and child development, Krishna Raj, to the Indian parliament on Thursday.
A total of 19,223 women and children were trafficked in 2016, compared with 15,448 in 2015, the data showed.
The highest number of victims was recorded in West Bengal state, eastern India – 3,559 women and 3,113 children, according to the data.
Other states which saw the most victims of women and child trafficking included Rajasthan (north), Maharashtra (west), Tamil Nadu (south) and Karnataka (south-west).
In the meantime, sources for Indian English-language daily newspaper the Telegraph claim that the numbers could be even higher.
"Sale of children from an orphanage in Jalpaiguri [a city in West Bengal] has recently come to light. If such cases are put together, the figures will go up," a retired administrative official told the paper.
"Bengal lies along both national and international borders. Maybe, more cases of missing persons are lodged in our state as the government insists on filing an FIR [First Information Report], not a general diary, for every missing person," a senior state government official added.
However, a senior Delhi police official, who declined to be named, told Reuters that it is still "difficult to claim these crimes are rising dramatically."
"I think more victims are coming forward and reporting because of more information about trafficking," the official said.
"Government and civil society groups are doing campaigns and people are also seeing more cases being reported in the media."
In India trafficking is prohibited by the constitution. The United Nations Office on Drugs and Crime (UNODC) said that women and girls in India might be trafficked due to cultural practices.
"India is a source, destination and transit country for human trafficking primarily for commercial sexual exploitation and forced labor, and with the falling sex ratio, trafficking for marriage is becoming another pull factor for trafficking of women and girls," the UNODC said in a 2011 report.
A report by the UN special rapporteur on violence against women in 2014 said that the trafficking of women and girls "from, and to, India was reported as widespread."
You can share this story on social media: