Syria debacle & megaprojects dominate Erdogan's Russia visit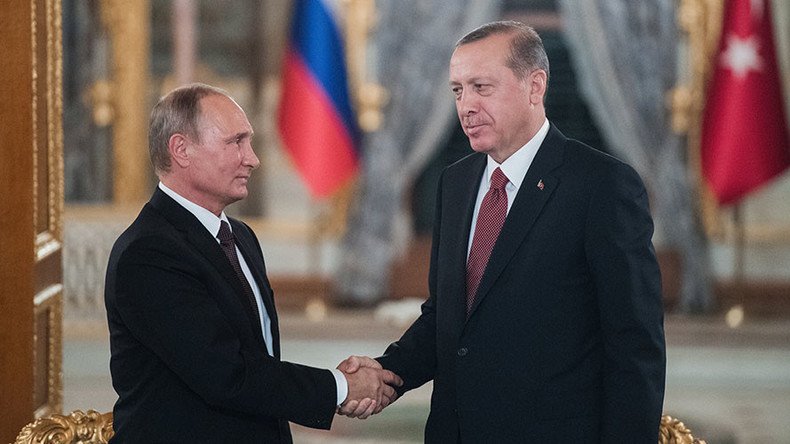 The presidents of Russia and Turkey have held a meeting in Moscow on Friday, putting behind a 16-month-old crisis in bilateral relations. High-profile infrastructure projects and the Syrian crisis have dominated the Turkish leader's Russian visit.
Vladimir Putin has played host to Recep Tayyip Erdogan for the sixth session of a high-level cooperation commission. The session was initially planned for 2015, but Turkey's downing of a Russian bomber jet near the Syrian border in November 2015 prompted a cancelation of the meeting and sent bilateral relations into a tailspin.
The presidential meeting on Friday followed a phone call between Turkish Prime Minister Binali Yildirim and his Russian counterpart Dmitry Medvedev, who on Thursday decided to lift trade restrictions imposed in the wake of the crisis. Erdogan's delegation in Moscow included several ministers and senior military officers, who met their opposite numbers in the Russian government to discuss a full reengagement.
The two leaders discussed the developments in Syria, where Turkey-allied troops are engaged in fighting with the terrorist group Islamic State (IS, formerly ISIS) and Kurdish militias. Russia, which supports the Syrian government in its fight against jihadists, had advocated for a bigger autonomy of the Syrian Kurds in a post-war Syria. Turkey sees Kurdish fighters as allies of the Turkey-based Kurdish insurgency and likely enemies.
The US, another major player in the Syrian situation, has recently boosted its presence on the ground in the region by deploying hundreds of Marines to assist in fighting IS. The deployment is believed to be part of an eventual siege of Raqqa, IS capital in Syria.
With so many parties with conflicting agendas involved in the conflict, the question remains as to whether some sort of cooperation may be forged among everyone interested in defeating IS. Washington denies that it may join forces with Moscow and had refused to invite Russia for an anti-IS coalition meeting which will be held in two weeks in the US, but the meeting of Turkish, US and Russian senior military officers in Turkey may indicate otherwise.
"I am very pleased to remark on something that nobody here probably expected. Our military and special services have established very trusting and efficient contacts," Putin told the media before the start of the meeting.
READ MORE: US, Russian, Turkish military chiefs meet in Antalya to discuss Syria, Iraq (PHOTOS)
Putin and Erdogan were also expected to discuss the renewal of key bilateral infrastructure projects like South Stream gas pipeline, which is to transport Russian natural gas to Turkey through the Black Sea. The project replaced a similar project that would connect Russia with customers in Eastern Europe, which had been scrapped after what Moscow sees as politically-motivated pressure from Brussels.
Turkey is also interested in Russian expertise in constructing a nuclear power plant at Akkuyu, Mersin province. Ankara and Moscow would also discuss boosting Russian tourism to Turkey, a currency swap and mutual investment programs.
READ MORE: Assassination of Russian ambassador was not killer's 'own initiative' – Turkish Interior Minister
Erdogan was also expected to update Putin on the Turkish investigation into the assassination of the Russian ambassador in Ankara, according to the Kremlin. Andrey Karlov was killed in December last year by an officer of the Turkish police during a public appearance.
As a regional power, Turkey is ready to contribute the most to liberating Raqqa from Islamic State, but won't cope without Russian or US support, Huseyin Bagci, professor at the Middle East Technical University in Ankara, told RT.
"The Turkish government says that Turkey can't [defeat IS] alone – either the Americans or Russians should be involved," he said.
With three countries sharing a common aim in Syria, "it all depends on how Putin and Erdogan come to terms on whether they'll be doing this together or just leave it to Turkey and America, but the Russians will be always part of this process," Bagci stressed.
You can share this story on social media: