Assassination of Russian ambassador was not killer's 'own initiative' – Turkish Interior Minister
The assassination of the Russian Ambassador to Ankara, Andrey Karlov, was a well-planned and premeditated murder, Turkey's interior minister told journalists. He said it did not happen at the initiative of the killer or out of personal vengeance.
Karlov was shot dead as he was delivering a speech at the opening of an exhibition called 'Russia in the Eyes of Turks' at an art gallery in Ankara on Monday. The gunman, who was killed at the scene, was identified as 22-year-old Mevlut Altintas, a member of Ankara's riot police force.
Read more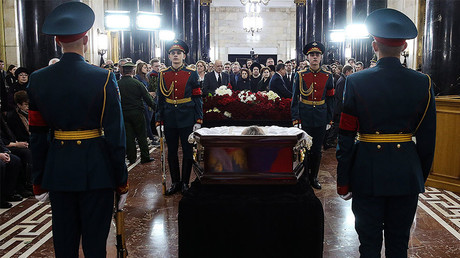 Russian and Turkish teams are now working in Ankara in attempts to figure out the details of Karlov's assassination.
Earlier, the top levels of the Turkish leadership rushed to accuse the Fethullah Terrorist Organization (FETO) of being behind Karlov's assassination in an apparent bid to sever Russia-Turkey ties. However, it is too early to jump to any conclusions yet, as Russia's goal is to "find the truth, not use the incident for some political gain," the head of Russia's Upper House International Relations Committee, Konstantin Kosachev, told RT earlier.
American based cleric Fethullah Gulen and his FETO group stand accused by Ankara of staging the failed July 15 coup. The Turkish government claims it continues to infiltrate Turkish institutions, namely the military, police and judiciary, to form what Ankara calls a "parallel state."
On Saturday, Suleyman Soylu, Turkey's interior minister, once again reiterated a hypothesis that Altintas was linked to FETO.
"At this stage, we have clearly defined a relationship with the terrorist Fethullah Gulen movement. The assassination was not the result of individual initiative. The terrorist attack was planned," Soylu said, Anadolu reported.
The investigators, the minister added, are trying to identify Altintas' links to terrorist organizations both inside and beyond Turkey. The probe, Soylu said, already unearthed "very important" details of the attack, but at this point the Turkish side decided not to share it with the public.
The minister did express hope that Turkish-Russian relations would not be tarnished by the tragedy as he expressed his condolences to Karlov's family.
The Russian team of investigators which is now working in Turkey are yet to make any definitive comments concerning the assassin's affiliations or motives.
Earlier this week Turkish newspaper Hurriyet reported that during a raid on Altintas' home "police ... found books related to the Fethullahist Terrorist Organization (FETO) and Al-Qaeda."
The assassin's father Israfil Altintas, noted on Friday that his son's behavior started changing after he became friends with a man identified as Sercan B, who the killer met at a police academy.
"As far as I know, he was not a member of any terrorist organization, religious network or group," Israfil Altintas told police, according to Turkish broadcaster Haberturk.
Read more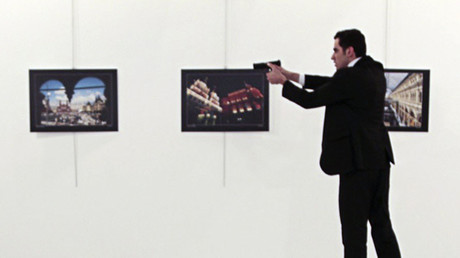 "However, he started becoming focused on his prayers, more introverted and silent after he became a policeman," the father noted, claiming that prior to joining the police force the 22-year-old was not really religious.
After Karlov's death, the Pennsylvania-based cleric categorically denied involvement in the assassination. He explicitly said that Mevlut Altintas was not a member of FETO, as Gulen expressed condolences to Karlov's family.
"It is obvious that he has nothing to do with the movement in the past and the present," Gulen said in a video posted on YouTube.
The Alliance for Shared Values (AfSV) a New York-based nonprofit umbrella organization and major part of the Gulen movement also issued a statement denying "Turkish government officials' allegations trying to link the assassin of Russian ambassador to Turkey with Mr. Gulen or [the] Hizmet movement."
"While the assertion is wrong and irresponsible, it is not unexpected since Mr. Erdogan blames Mr. Gulen for any and all harm that besets Turkey," the statement read.