French mayor faces €1,800 fine after bringing up 'problem' of Muslim schoolchildren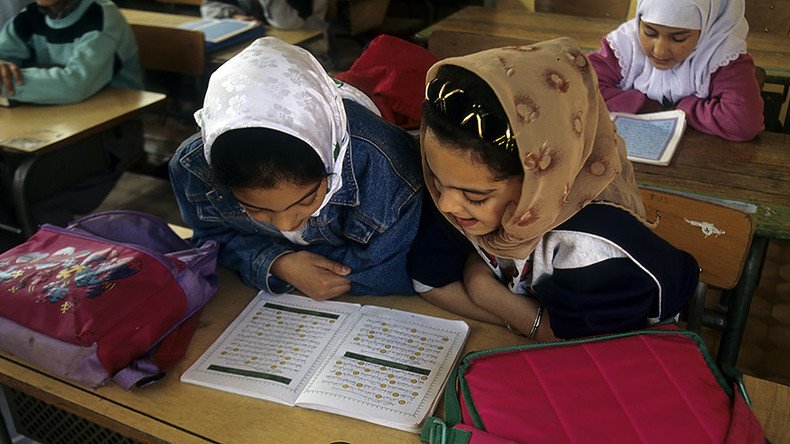 A far-right French mayor has appeared in court on charges of inciting hatred for his remarks last year, in which he said that there were too many Muslim children at the schools in his city, and implied that the ethnic French population is being "replaced."
Robert Menard, mayor of the southern town of Béziers and an ally of Marine Le Pen's anti-immigration and Eurosceptic National Front party, appeared before Paris Criminal Court on Wednesday for the launch of his trial for incitement of hatred, in relation to two statements he made in 2016.
"In a class in the city center of in my town, 91 percent of the children are Muslims. Obviously, this is a problem," he said in an interview on the French news channel LCI in September.
"There are limits to tolerance."
In the same month on the first day of school, Menard also wrote a tweet, saying: "These classes represent the most striking proof of the #GreatReplacement in progress. Just look at old class photos." The Great Replacement is a phrase coined by French writer Renaud Camus, referring to a hypothetical replacement of the ethnic French population in France with immigrants from the former colonies. Camus was convicted and fined for inciting hatred in 2014.
READ MORE: France's 'Dirty Harry': Mayor under fire over police '7.65 caliber new friends' posters
If found guilty, Menard faces a €1,800 fine to be payable within 60 days, and will face a prison term if he refuses to pay up.
In support of the request for punishment, the prosecutor argued that by allowing such a remark the mayor portrayed children as a "burden for the national community."
"He reduced them to their religion, regardless of whether they are French nationals or do not practice this religion," the prosecutor said, as cited by AFP.
Meanwhile, Menard has not appeared to show any remorse at the trial, saying that with his controversial rhetoric on the highly debatable topic he did not want to "stigmatize" anybody but aimed to paint a real picture of what is going on in the French schools.
"I do not find it desirable for children and their mothers that there are ghetto schools. And to find solutions, it is necessary to say what it is," Menard said.
Defending his Camus reference, Menard said that although he did not support the writer's penchant for conspiracy theories, his observations struck him as "pragmatic" and "telling."
"It is true that 25 years ago our schools were not composed of the same children as today," Menard said.
When asked by the court why he had picked exactly Camus to write a book about Béziers, Menard argued that his choice has nothing to do with the debate.
"He also writes tourist guides," the mayor retorted.
The lawyer for Menard demanded the court clear him of all charges unless it wants to be known for pronouncing a "death penalty for the freedom of thought."
READ MORE: French mayor in hot water over 'counting' Muslim kids in schools
This is not the only scandal that has engulfed the controversial mayor. In May 2015, Menard, a former socialist and co-founder of Reporters Without Borders, was accused of racism after he "counted" the names of schoolchildren to determine how many of them were Muslim, coming up with a figure of 64.6 percent. Keeping statistics on people's race or religion is not permitted in France.
In September 2015, Menard again caused outrage after a video emerged of him going around Syrian refugees' houses telling them, "You are not welcome in this town."
You can share this story on social media: