EU ministers agree to create joint military command center in NATO footsteps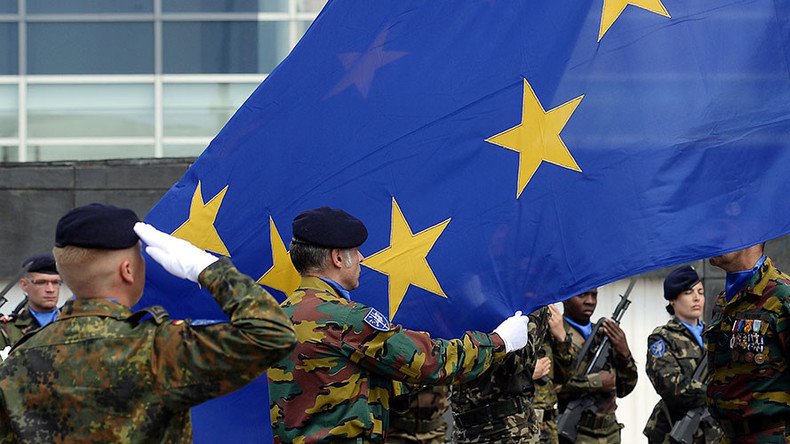 The European Union is to create a special military command center for operating foreign missions, the German defense minister announced amid criticism from some bloc members that the initiative is financially unreasonable and merely copies NATO's steps.
EU foreign ministers "founded, or put in motion, today a European command center for foreign missions," German Defense Minister Ursula von der Leyen said at a meeting in Brussels on Monday, according to AP.
Membership in the program is not obligatory, von der Leyen stressed, adding that EU members not wishing to take part could act as observers.
"For those who are not members of the European Union, like for example Norway or the British, there will be the possibility to join in selectively with certain projects or missions," she said.
"The Norwegians have great interest in this, the British have great interest in this," the German minister noted.
Meanwhile, Britain has long criticized the bloc's aspirations to launch its own army, saying the EU should not waste money on creating structures that match those set up by NATO. British Defense Secretary Michael Fallon, who was also present at the meeting, called on other EU ministers "to cooperate more closely with NATO to avoid unnecessary duplication and structures."
Nevertheless, von der Leyen called the move "a very important step" that "was long overdue."
"We took a very important step toward a European security and defense union, because we have become very concrete," she said.
Federica Mogherini, the EU foreign affairs chief, shared her opinion, saying that the command center will provide a "more efficient approach to the existing military training missions we have."
Reports on the EU establishing a so-called Military Planning and Conduct Capability (MPCC) center aimed at stepping up security and defense cooperation among the bloc's military missions first appeared in media outlets on Friday, March 3.
The MPCC is expected to manage the bloc's "non-executive military missions," including the three missions currently in progress in Mali, Somalia, and the Central African Republic.
The idea of tightening cooperation among EU states on defense matters had long been off the table inside the bloc. However, the topic has again emerged on the agenda after Crimea joined Russia following a referendum in 2014. The EU described it as an "annexation" while the growing threat from Islamic militants also created additional pressure.
Britain opposed the idea for years, although after the UK voted to leave the EU in June last year, Germany and France, joined by Spain, were quick to try to revive the plan.
In November, von der Leyen urged the EU to modernize its military defense and security to match NATO, which has been beefing up its security forces – most of them located along Russia's borders.
"We have seen an enormous modernization drive by NATO over the past three years because of the Kremlin's behavior," von der Leyen said at a press conference, Reuters reported.
"That was correct and important, but I believe that we must invest at the least same energy into a modernization of the European security and defense union," she said.
In June, Russian Foreign Minister Sergey Lavrov said "Russia will have to adequately respond" to NATO's military activities along its borders.
You can share this story on social media: