Ukrainian nationalists honor Nazi collaborator & other 'fallen heroes' with torch-lit march (VIDEO)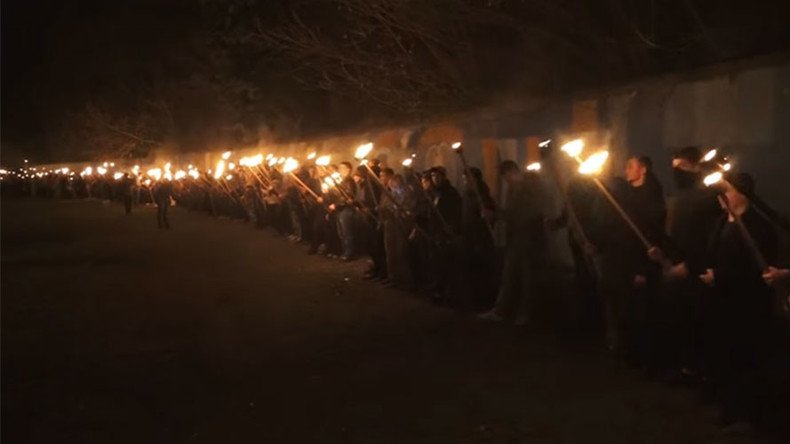 Far-right activists alongside veterans of the ultranationalist Azov battalion have held a torch-lit march commemorating a Nazi collaborator and late leader of the Ukrainian Insurgent Army, as well as contemporary "heroes" who lost their lives in Ukraine's civil war.
The torchlight procession dubbed, "Remembering the heroes," marched through the streets of the western Ukrainian city of Lvov late on Sunday. Chanting "Glory to nation – death to the enemies" and "glory to Ukraine," the ultra-nationalist activists carried flags of the National Corps party alongside lit torches and flares.
The march culminated with a rally in front of the monument to the Fighters for Freedom of Ukraine. The crowd with lit flares read an "anthem of Ukrainian nationalist" to commemorate the WWII-era Nazi collaborator Roman Shukhevych, as well as contemporary "national heroes," who have died in the ongoing conflict in eastern Ukraine.
The Ukrainian National Corps party was set up in October last year on the basis of a civil platform for the Ukrainian extreme right movement, Azov Civil Corps. Many of its members are veteran militants of the Azov Battalion, one of the ultranationalist paramilitary units which were organized and incorporated into the Ukrainian National Guard following the 2014 coup to pacify the rebellious Donetsk and Lugansk regions.
Since the collapse of Soviet Union, WWII-era nationalist leaders such as Shukhevych and Stepan Bandera have increasingly been glorified as heroes of Ukrainian freedom, despite the UPA's complicity in the mass killings of Jews and Poles in western Ukraine and one of the largest ethnic cleansing operations of WWII in Volhynia and Eastern Galicia, where between 76,000 and 106,000 Poles, mainly women and children, were killed.
Ukrainian authorities have erected numerous monuments and named streets in various towns honoring the UPA leaders. In 2000, the two were ultimately awarded The Hero of Ukraine medals, which were later annulled under condemnation from the European Parliament, as well as various Russian, Polish and Jewish organizations.
Earlier this year, the Ukrainian Institute of National Memory reportedly proposed a draft bill to legally rehabilitate members of the nationalist movements, including from the UPA and the Organization of Ukrainian Nationalists (OUN). The proposal, branded as "dreadful" and "intolerable," caused an outrage amongst Ukraine's Jewish community and in Poland.
READ MORE: Ukrainian nationalists hold torchlit march in Kiev to mark anniversary of Nazi collaborator Bandera
Some countries, including Russia, have repeatedly condemned Ukraine's attempts to whitewash and glorify the nationalists who openly collaborated with the Nazis. Last July, Poland's parliament passed a resolution which labeled crimes committed by both OUN and UPA against the Poles during World War II as genocide.
READ MORE: Maidan 2.0? 'Ukrainian nationalists provoking political crisis with coal blockade'
You can share this story on social media: