Erdogan slams German towns for 'aiding and abetting terror' after Turkish rallies axed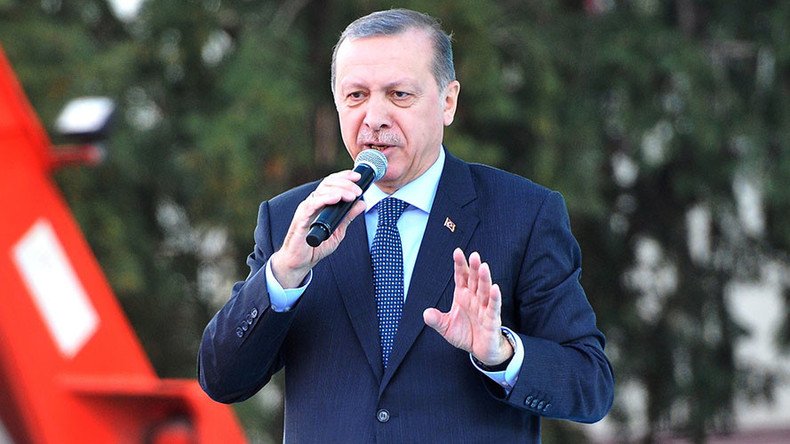 Turkish President Recep Erdogan has slammed German communities for "aiding and abetting terror" after they scrapped rallies due to be attended by Turkish ministers advocating for the upcoming constitutional referendum in Turkey.
"They need to be put on trial for aiding and abetting terror," Erdogan said, apparently referring to the authorities of the communities, Hurriyet Daily reports. The leader noted that "while preventing Turkish leaders from addressing their communities," Germany has allowed "members of the outlawed Kurdistan Workers' Party (PKK) leaders to hold rallies."
Erdogan, who himself was denied an opportunity to address a rally with German-based Turks last year, stressed that at the same time, Germany allowed a video address of a PKK figure, Cemil Bayık, in a rally in Cologne, in September 2016.
"But they are connecting Cemil Bayık from Kandil [Qandil mountains] and he is making his speech there [Germany]," he said. The Qandil area of Iraqi Kurdistan is notable as a PKK sanctuary and headquarters.
Tensions between Turkey and Germany started when the small town of Gaggenau in Baden-Wurttemberg withdrew the permit for the rally for Thursday organized by the Union of European Turkish Democrats (UETD), a group close to Erdogan, citing security concerns. It also listed concerns over potential overflows inside its town hall and the parking lot outside.
Turkey's justice minister, Bekir Bozdag, who was due to give a speech in the town, then pulled out of a scheduled visit to Germany.
In the wake of Gaggenau's decision, Cologne canceled another UETD event where Economy Minister Nihat Zeybekci was due to speak on Sunday, saying the city was unable to guarantee the safety of participants on short notice.
"The event can and will not happen there," a spokeswoman for Cologne city authorities told AFP. Later, the town of Frechen also cancelled a rally scheduled for Sunday, as the venue "excludes political events," police said.
Following the harsh criticism from Ankara, German Chancellor Angela Merkel said that the federal government had nothing to do with the decision, since it was made by local authorities.
On Friday, the Dutch government said that plans for a similar rally in Rotterdam scheduled for March 11 were "undesirable," Reuters reports. Turkish Foreign Minister Mevlut Cavusoglu was planning to attend.
The Turkish leader also commented on Berlin's criticism concerning the arrest of Die Welt journalist Deniz Yucel.
Yucel, who has both Turkish and German citizenship, was arrested in Turkey on charges of "terrorism propaganda" and "inciting violence" earlier in February.
"It isn't because a correspondent of Die Welt was arrested. It is because this person hid in the German embassy as a member of the PKK and a German agent for one month. When we told them to hand him over to be tried, they refused," Erdogan said.
Erdogan said he had spoken to Chancellor Merkel on the matter.
"Your terrorists are requested by us, and you say justice is impartial and independent. We currently trust our impartial and independent judiciary. Give him up so he can be tried. They first didn't hand him over, but later, somehow, they did. The judiciary did what was necessary and arrested him," he said, citing his statement to the German chancellor.
Relations between Germany and Turkey have been worsening over the past months. Berlin accuses Ankara of overreacting after a failed military coup last July, which triggered a wide-scale crackdown on supporters of Fethullah Gulen, the US-based cleric accused by the Turkish government of masterminding the plot.
You can share this story on social media: