'We don't need EU!' Mogherini met with anti-EU chants in Serbian parliament (VIDEO)
Published time: 3 Mar, 2017 18:13
Edited time: 4 Mar, 2017 15:39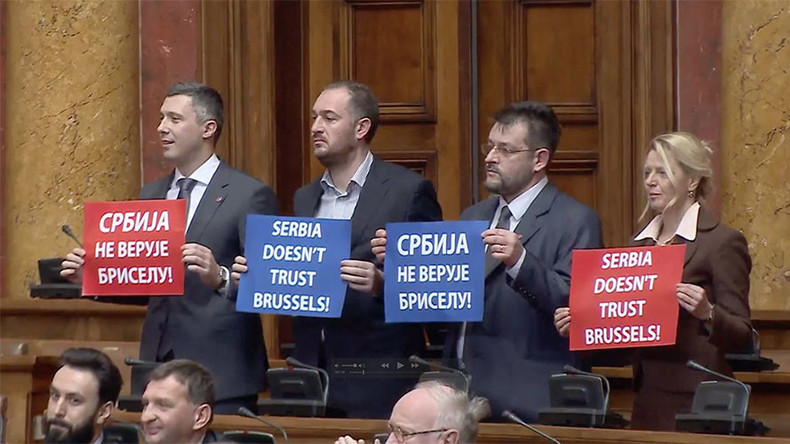 The EU foreign affairs chief, Federica Mogherini, had to speak over a chorus of Serbian opposition MPs, who chanted anti-EU slogans, throughout her whole speech at the country's National Assembly on Friday.
Mogherini faced a rather cool reception from the parliamentarians in Belgrade. During her speech, MPs from opposition parties chanted: "Serbia! Russia! We don't need the EU!"
The chorus was too much to ignore, with Mogherini commenting: "If you count on me to get tired of this, you miscalculated."
"I understand you have a long electoral campaign to run, maybe you'll need your voice to speak to your citizens," she advised the deputies.
Members of right-wing party Dveri stood silently throughout her address, holding placards which read: "Serbia doesn't trust Brussels."
READ MORE: 'We will not close doors': EU foreign affairs chief says aging Europe needs migration
Six opposition parties are represented by 86 deputies in the National Assembly, which consists of 250 seats.
Mogherini told the MPs that she views Serbia, which is an official candidate to join the EU, as a bridge between the West and the East.
According to the foreign policy chief, the European Union will never be complete without Serbian participation.
READ MORE: 'Polarized & divided' US may become destabilizing factor for world – EU foreign policy chief
Mogherini arrived in Belgrade as part of her four-day Balkans tour. She visited Montenegro on Thursday, where she had to speak before a half-empty parliament due to a boycott by the opposition, which is pushing for an early election.