Sweden brings back military conscription for men & women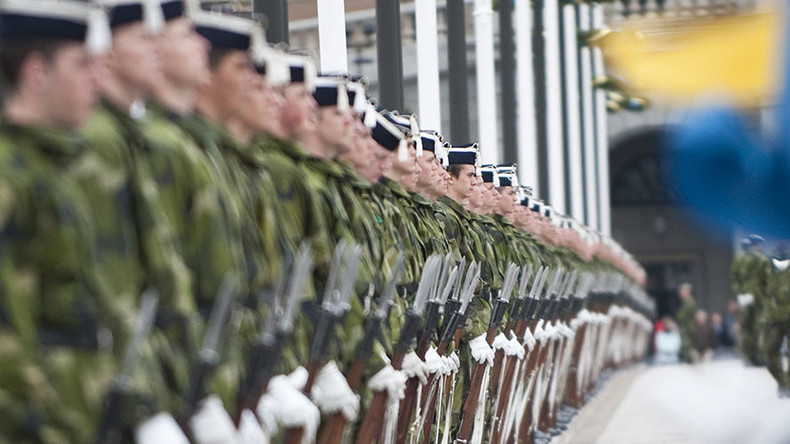 The Swedish government has reintroduced military conscription for both men and women, officials said. Under the proposal, people born in and after 1999 would be required to undergo basic military training.
"The Swedish government has decided to re-activate conscription from January 1, 2018," the statement from the government said, adding that the conscription is "gender neutral" and will include both women and men.
According to the announcement, recruitment to the Armed Forces "will be both voluntary and conscription. Individual motivation, interest and will should to be considered as much as possible.
"The security environment in Europe and in Sweden's vicinity has deteriorated and the all-volunteer recruitment hasn't provided the Armed Forces with enough trained personnel. The re-activating of the conscription is needed for military readiness."
"We have had trouble staffing the military units on a voluntary basis and that needs to be addressed somehow," Swedish Defense Minister Peter Hultqvist earlier told public service radio SR, adding "therefore it is necessary to reintroduce conscription."
According to the decision, young men and women born in 1999 and afterwards will be asked to complete recruitment questionnaires. The authorities will then choose 13,000 young people from this pool, including volunteers, who will then be called in for the enlistment process.
Ultimately, at least 4,000 young people per year will be selected to undergo basic training in 2018 and 2019.
"I think it's good if you have both women and men in the workplace, both civilian and military, and there is a good mix. I think it will lead to better atmosphere and better efficiency and a better reflection of the entire society," Hultqvist added.
The defense minister told public broadcaster SVT that if Sweden wants "full and trained military units, the voluntary system needs to be complemented by compulsory military service."
"We have a system in Norway, which works, that includes both conscription and a professional organization and that's the one we are trying to mimic," he said.
Reports that Sweden was contemplating bringing back compulsory military service emerged in September of 2016, when a government inquiry recommended that the draft be reintroduced.
"Not enough people are being recruited in the current system,"said Annika Nordgren Christensen, who headed the inquiry.
Sweden introduced universal conscription in 1901 and military service lasted between 80 and 450 days, depending on the position. However, the Nordic country has been downsizing its military since the 1990s and it abolished peacetime conscription in favor of a volunteer-only force in 2010, when the number of servicemen dropped to 1,644, according to SVT data.
The trend reversed in 2014, when a diplomatic stand-off between Russia and the US over the Ukrainian crisis sparked concerns about security in Europe. That same year, the Swedish Navy carried out a costly, fruitless search for an alleged Russian submarine amid media hype.
The Swedish military eventually acknowledged that the photo of the 'Russian sub' that had triggered the hunt was actually of a workboat.
However, that failure didn't stop the Swedish military from requesting an additional $696 million for its 2016-2020 budget in order to counter a perceived "threat" from spying Russian submarines.
In January, Sweden's army chief, Major General Anders Brannstrom, told soldiers in an internal brochure that Sweden may be engaged in a war with a "qualified opponent" in a few years, following two centuries of peace.
You can share this story on social media: