Filipino terrorists behead 70-year-old German hostage, release video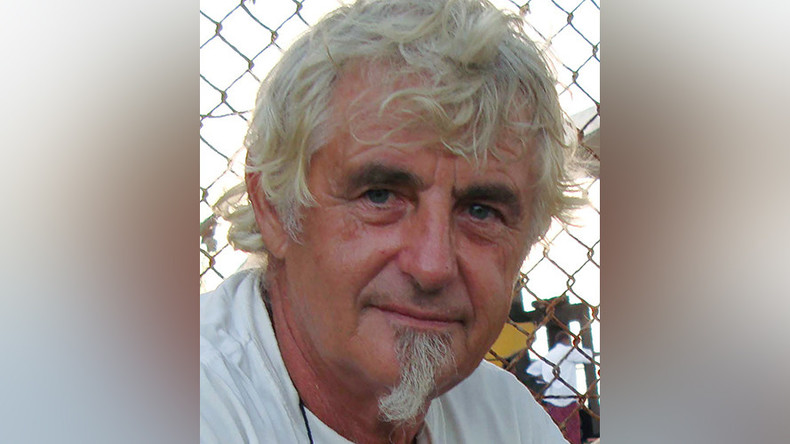 A German hostage in the conflict-wracked southern Philippines has been beheaded by Islamist militants, with the video being posted online by the terrorism monitoring group SITE.
In the video released on Monday, the hostage, 70-year-old Jurgen Kantner, can be seen in a jungle clearing with his hands tied behind him. He can be heard saying the words "Now he'll kill me" before a man starts cutting Kantner's head off with a large knife.
Kantner was being held by men loyal to Muammar Askali aka Abu Rami, a commander in the Islamist militant group Abu Sayyaf, for a sum of 30 million pesos (approximately $500,000) before talks for his release collapsed on Sunday, the deadline for the ransom payment. He had been kidnapped almost two months ago when he and his wife, Sabine Merz, were cruising through the Philippines in their yacht through an area controlled by Abu Sayyaf. Merz was reportedly killed when she tried to fight back with a shotgun.
The presidential adviser on the Philippines peace process, Jesus Dureza, gave a statement condemning the execution.
"We grieve as we strongly condemn the barbaric beheading of yet another kidnap victim," he said, as reported by Reuters.
"Terrorism has no place in a country like ours and we as a people must confront violent extremism every time it rears its ugly head. There must be a stop to this killing of the innocent and the helpless."
Kantner and his wife, both sailing enthusiasts, had survived being kidnapped by Somali pirates eight years earlier. In June 2008, the pair was sailing through the Gulf of Aden, off the Horn of Africa, when they were seized by the gang and held in a mountain hideout, during which time they were subjected to mock executions. They were released after 52 days after a reported ransom payment of $600,000.
Despite their horrific experience, Kantner and his wife were undeterred, even returning to Somalia to retrieve their boat, the Rockall, which had been damaged in the raid.
"My boat is my life and I don't want to lose her, nothing more. I don't care about pirates and governments," he told reporters from AFP in 2009. "They think that I'm insane, they call me the crazy white guy or the mad German sailor but they don't know how important my boat is to me.
"This is my life and it's wonderful. I have all my things on my boat and I travel to many places in the world. Sailing is how I want to live and die."
Abu Sayyaf started as a breakaway faction of the Moro National Liberation Front, a larger group which fought for independence for the poorer Muslim provinces of the southern Philippines. It has since grown notorious for its kidnapping of foreigners and killing them if ransoms are not paid.
According to the US State Department the group is one of the most violent terrorist organizations operating in the Philippines, although it seems to alternate between ideological and purely criminal objectives. Abu Sayyaf is believed to be holding 26 more hostages – 13 Vietnamese, seven Filipinos, a Dutch national, a Japanese, two Indonesians and two Malaysians.
The Philippines armed forces' Western Mindanao Command (Westmincom), tasked with dealing with Abu Sayyaf, reiterated its commitment to cracking down on the insurgents.
"Our troops are continuously conducting focused military operations to rescue the remaining hostages.... We are calling for the people of Sulu and Tawi-Tawi for renewed cooperation in order to stop the un-Islamic and barbaric activities of the Abu Sayyaf, particularly in the kidnapping of innocent civilians," said Major General Carlito Galvez, as quoted by Rappler.
Speaking from Geneva, Foreign Minister Perfecto Yasay said that Kantner may have been executed because he was unwell and thus a burden to his captors, Reuters reports. He added that the Philippines is seeking foreign assistance to locate the remaining hostages.