Is that my seat? Pakistani plane flew with extra passengers standing in the aisle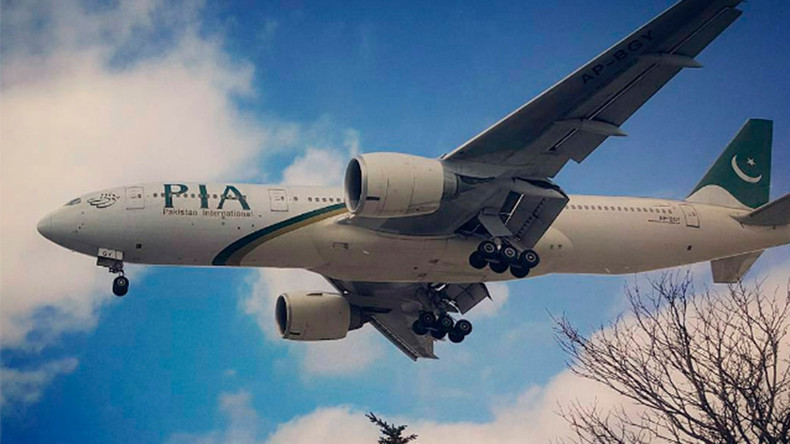 Pakistan International Airlines is under investigation over reports that a passenger flight flew from Karachi to Medina, Saudi Arabia, with a number of passengers standing in the aisle for the duration of the four-hour journey.
The Boeing 777 has a capacity of 409 passengers, but 416 were reportedly onboard the flight to Medina on January 20, the Dawn reports.
Extra passengers could be put at risk in the event of an emergency, as they would not have access to oxygen masks and could block aisles as people attempt to exit the aircraft.
According to the Dawn, the excess passengers boarded the plane with handwritten boarding passes, but their names were not on the official list given to the aircraft crew by ground traffic staff.
Blame is being passed between the pilot, senior cabin crew, and ground traffic staff.
Hina Tura, the senior air hostess, said that when she told captain Anwer Adil there was chaos on board due to the extra passengers, he told her to settle them, as the plane was already taxiing.
However, the captain maintains that the air hostess should not have closed the door to the aircraft if there were extra passengers onboard. The ground crew has also been criticized for giving the unofficial boarding passes to the additional passengers.
"After takeoff when I came out of cockpit, Ms. Turab informed me that there were some extra people who [had been] boarded by the traffic staff," Adil is cited as saying.
"I also noticed some people were those who were categorically refused jump seats by me at the check-in counter before the flight. I had already taken off, and the senior purse did not inform me about extra passengers before closing the aircraft door. Therefore, after takeoff, immediate landing back at Karachi was not possible, as it required a lot of fuel dumping, which was not in the interest of the airline," Adil is quoted as saying.
PIA spokesperson Danyal Gilani said the matter was under investigation, promising that the airline would "punish anyone found guilty."
READ MORE: PIA flight #PK661 crashes, 'bodies burned beyond recognition' (VIDEOS, PHOTOS)
The airline has previously been accused of carrying two additional passengers in the toilet of a plane on a flight from Lahore to Karachi.
In December, a PIA flight from Chitral to Islamabad crashed, killing 48 people on board. Pakistan Today reports that the airline has suffered eight fatal crashes since 1986, with 327 people dying as a result.
You can share this story on social media: