PIA flight #PK661 crashes, 'bodies burned beyond recognition' (VIDEOS, PHOTOS)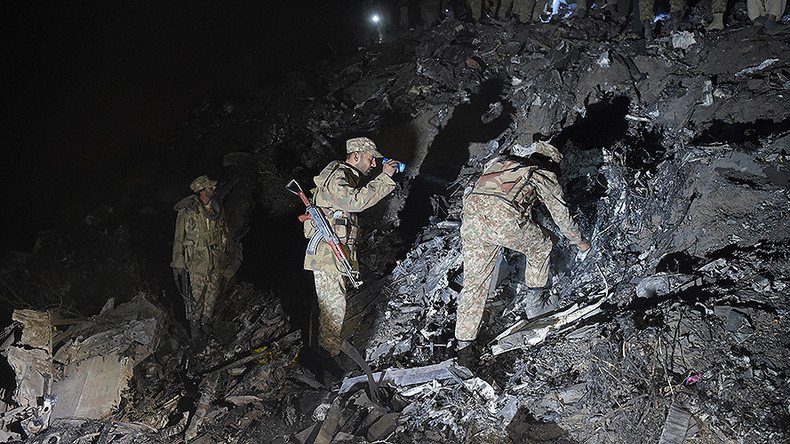 A Pakistan International Airlines (PIA) plane with 48 people on board has crashed en route from Chitral to Islamabad. The flight came down in the village of Saddha Batolini near Havelian, which is around 75km (45 miles) northwest of Islamabad.
In a statement from the airline, PIA confirmed there were 48 people on board the ATR-42 aircraft, including 42 passengers, five crew members and one ground engineer.
"Rescue efforts are underway and we are also ascertaining the extent of damage to life of those on board the aircraft," the airline said. "PIA is doing everything possible to help the families of passengers and crew members for first hand information regarding the incident and damage."
PIA have also said that their "emergency response center has been activated" and "all resources are being mobilized." Troops and army helicopter have been dispatched to the crash site, according to Radio Pakistan.
It's not yet known what caused the crash, with early reports suggesting engine problems. The plane's black box was found later on Wednesday, reported Capital TV, with authorities hoping the data recorded will explain what happened.
"All of the bodies are burned beyond recognition. The debris is scattered," government official Taj Muhammad Khan told Reuters. Khan, who was at the crash site, said the aircraft was on fire before it hit the ground.
It's reported rescue crews have been sent to the crash site, including troops and helicopters.
"I don't think there is any chance of finding any survivor," said Pervez George, spokesman for Civil Aviation Authority.
The military's media wing ISPR told reporters that 21 bodies had so far been recovered from the crash site.
A number of local outlets report that popular Pakistani singer and preacher Junaid Jamshed was on board the flight. Actor and singer Fakhar-e-Alam tweeted that his "friend & neighbour Junaid Jamshed was indeed on the unfortunate flight. Allah have mercy."
It is confirmed that my friend & neighbour Junaid Jamshed was indeed on the unfortunate flight. Allah have mercy. #PIA

— Fakhr-e-Alam (@falamb3) December 7, 2016
Images from the crash scene show smoldering wreckage in the side of a mountain.
Pakistani news outlet Dawn tweeted an apparent list of passengers on board the flight, including Jamshed. Deputy Commissioner of Chitral, Osama Ahmad Warraich, along with his wife are also reported to have been on the flight.
Two Austrian passengers are reported to have been among the dead. Another reporter in Pakistan claims a Chinese citizen was also on the flight.
In fact the three foreigners on the flight - two are Austrians and one is Chinese

— Gibran Ashraf (@GibranAshraf) December 7, 2016
Of the 42 passengers, 31 were reported to be male, nine female and two infants.
In 2006 all 45 people on board a PIA flight were killed when two engines failed after take-off from Multan International Airport.
All but nine PIA planes were banned from flying into European cities by the EU in 2007 following safety concerns over the ageing aircraft. Later that year the ban was lifted and PIA leased seven new Airbuses.
You can share this story on social media: