Iraqi sinkhole mass grave for 4,000 ISIS victims – report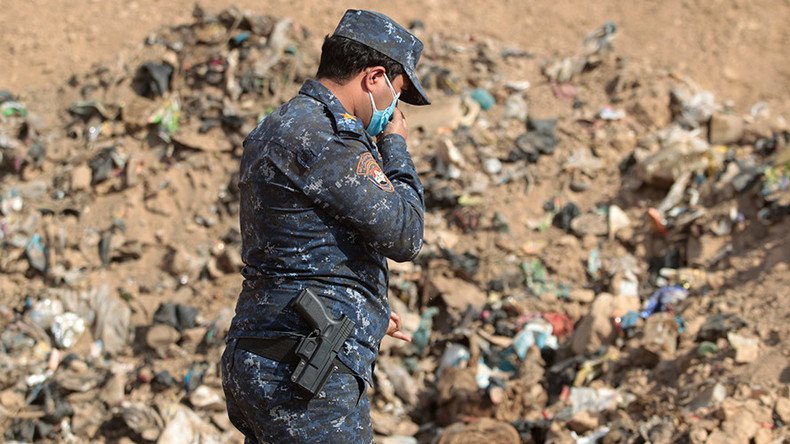 The bodies of some 4,000 Islamic State victims have been buried in the Khasfa sinkhole in Iraq's desert, making it the country's largest mass grave, according to locals, police, and activists, as cited by The Telegraph.
The sinkhole is located near the Baghdad-Mosul highway, only eight kilometers from Mosul, the daily reports.
Witnesses and police, as well as human rights organizations, say that Islamic State (IS, Daesh, formerly ISIS/ISIL) murdered and dumped the bodies of thousands of Iraqi troops into the sinkhole after they captured Mosul three years ago.
The majority were shot and thrown into the pit, locals said.
"Daesh would drive the victims to Khasfa in convoys of minibuses, trucks and pickups. The men had their hands bound and their eyes blindfolded. They were taken to the sinkhole and shot in the back of the head," 40-year-old local villager Mahmoud told The Daily Telegraph.
The terrorist killers were masked, the witness added.
Earlier this week, the Telegraph reportedly went to the Khasfa sinkhole following the recapture of the western half of Mosul by Iraqi troops.
The city has been under IS control since 2014, and the offensive to retake it began in October.
On Friday, Iraqi forces seized the city's airport.
Over the past years, IS is believed to have conducted a campaign to hunt down and murder policemen and soldiers and toss them into mass graves in the desert.
Human Rights Watch reported last November that IS had executed at least 300 policemen and buried them in a mass grave some 30 kilometers from Mosul.
Another mass grave containing 100 beheaded bodies was found earlier that month in a school just outside of Mosul.
You can share this story on social media: