Saudi FM makes surprise visit to Baghdad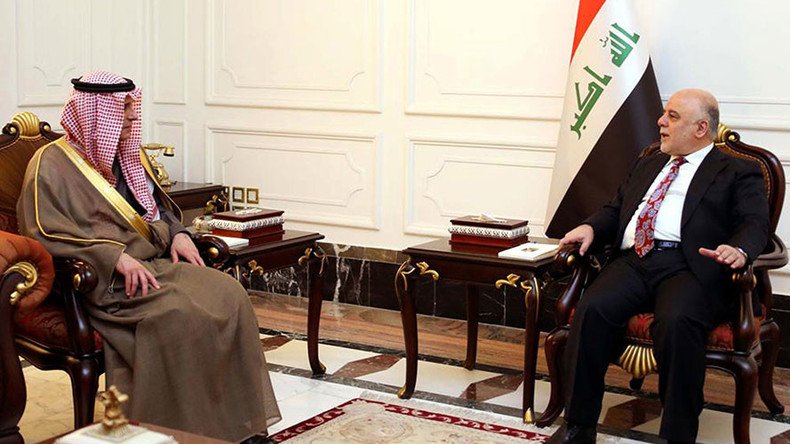 Saudi Foreign Minister Adel Al-Jubeir has arrived for an unannounced visit to Baghdad, first such visit of a top diplomat from the kingdom in over ten years.
During his trip, Jubeir met with Iraqi Prime Minister Haider al-Abadi and Foreign Minister Ibrahim al-Jaafari.
The visiting Saudi official congratulated Iraq "on the victories achieved against Daesh (Arabic acronym for Islamic State, formerly ISIS/ISIL) and pledged Saudi Arabia's support to Iraq in fighting terrorism," a statement by the Iraqi PM's office said, as cited by AFP.
Jubeir also said that Riyadh was ready to assist Baghdad in maintaining stability in areas already liberated from the terrorists.
Iraqi forces, backed by the US-led coalition, are currently storming the main IS stronghold in the country, Mosul, retaking the city's airport earlier this week.
The Saudi minister praised Baghdad for its international stance, saying that "the whole region is heading toward compromise and Saudi Arabia sees Iraq as an important player to have on its side."
Saudi Arabia and Iran have been main geopolitical rivals for decades as the Sunni and Shia nations struggle for the leading role in the Arab world.
Riyadh and Tehran currently have no diplomatic relations after they were severed when Iranian protesters demolished two Saudi missions in the country in January 2016.
"Iraq's neutrality could [lay the ground] for Iranian-Saudi rapprochement," an Iraqi official said on Saturday, as quoted by AFP.
The Saudi minister also complemented al-Abadi as the PM "never indulged in aggressive rhetoric against Saudi Arabia," despite strong recent for the Sunni Muslim Gulf state among Iraq's Shia majority.
In Baghdad, the top Saudi diplomat announced that Riyadh is planning to appoint a new ambassador to Iraq.
READ MORE: Iraq carries out airstrikes against ISIS targets in Syria – PM statement
Saudi Arabia reopened its embassy in Baghdad after a 25-year break in 2015, but its first ambassador, Thamer al-Sabhan, was asked to leave shortly afterward. Al-Sabhan angered local politicians and militia leaders by commenting about Iranian meddling in Iraqi affairs and alleged persecution of Sunnis in the country.
Editor's note: The initial version of the article mistakenly attributed the quote "Iraq's neutrality could [lay the ground] for Iranian-Saudi rapprochement" to the Saudi Arabian foreign minister. The article has been amended to correctly attribute the quote to an Iraqi government official who made comments which were cited by AFP news agency.
You can share this story on social media: