Iraq carries out airstrikes against ISIS targets in Syria – PM statement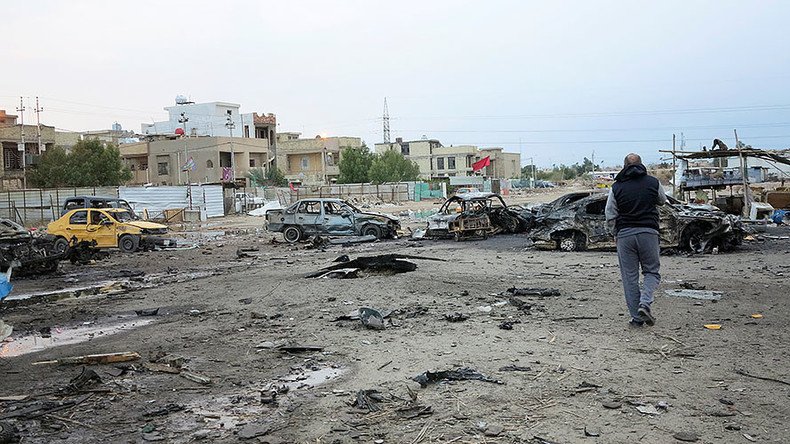 The Iraqi prime minister said he had directed the military to conduct airstrikes against Islamic State (IS, formerly ISIS/ISIL) targets in Syrian territory. The strikes come in response to recent bombings in Baghdad, he added.
"We are determined to chase terrorism that tries to kill our sons and citizens wherever it is found, so we gave orders to the air force command to strike Islamic State positions in Hosaiba and Albu Kamal inside Syrian territory as they were responsible for recent bombings in Baghdad," Haider al-Abbadi said in a statement.
"The heroes of the sky executed the operation and responded to the terrorists with amazing success."
IS claimed responsibility for a deadly attack that took place on February 16 in southern Baghdad, when a car bomb blast ripped through the area, killing at least 45 and injuring dozens.
Albu Kamal was targeted by the US-led coalition earlier this week. On Thursday, three strikes engaged an IS unit and also destroyed four oil refinement stills and a vehicle.
Later in the day, an Iraqi military commander has confirmed the airstrikes "were successful," adding that they involved F-16 fighter jets, AP reported.
A seniour security official told Reuters "the strikes targeted Islamic State's headquarters used for making car bombs in Albu Kamal... after Iraqi intelligence received tips from their sources inside Syria."
READ MORE: Suicide blast kills at least 60 near Al-Bab, Syria – reports
Meanwhile, the Iraqi airstrikes were conducted "in complete coordination" with the Syrian government, a source close to Syria's foreign ministry told the news agency. The source chose not to elaborate on the issue.
Later, another foreign ministry source confirmed coordination of the airstrikes to the Syrian government's newspaper Al Watan.
Later in the day, Lebanese broadcaster Al-Mayadeen reported that the Iraqi airstrikes demonstrated "high-level cooperation between two countries' intelligence agencies." The report said the Friday air raids were ordered after a convoy carrying IS commanders was spotted in the area, adding that coordinated strikes are very likely to happen in the future.
Bassam Abu Abdallah, professor of political studies in Damascus University, told RT that closer coordination between Iraq and Syria in the fight against Islamic State (IS, formerly ISIS/ISIL) would be essential for defeating the jihadist group in the long run.
"If we do not have this kind of coordination, I think, that after Mosul the ISIS fighters will come to Syria and we see that the Iraqi forces try to close the borders between Syria and Iraq."
Abdallah added that similarly motivated cooperation between the United States and Russia is needed to defeat IS, but so far it was "not clear what is the plan in the minds of the Trump administration."
You can share this story on social media: