Syrian city of Al-Bab fully taken from ISIS – Turkish military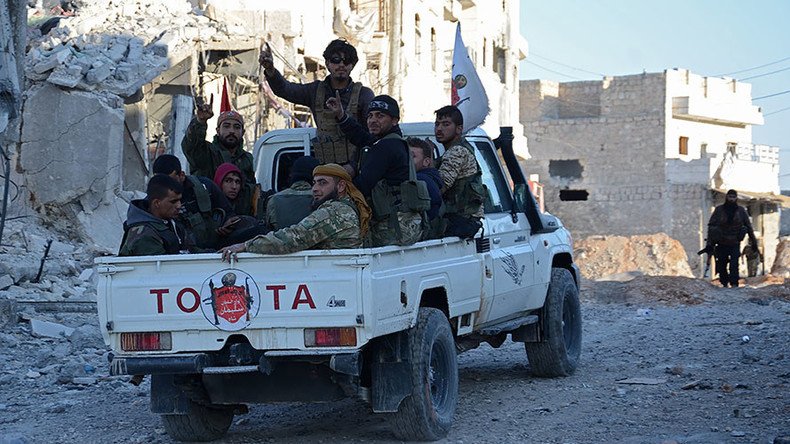 The Turkish military reports the ISIS stronghold of Al-Bab has been fully seized from terrorist control, according to a statement which comes hours after two car bombs claimed almost 70 lives in its vicinity.
"As of February 24, 2017, full control has been established over all districts of Al-Bab," a statement from the military reads, as cited by TASS news agency. "Work is still ongoing to clear the area of mines, IEDs and unexploded ordnances."
The announcement comes hours after almost 70 people were killed and over 100 injured in two subsequent car bomb attacks in the village of Sousian, a mere eight kilometers from Al-Bab.
This follows weeks of intense street fighting since early December, when Turkish forces and Free Syrian Army rebels began their siege of the northwestern Syrian town. Turkey has been fighting alongside rebel forces in Syria since August, as part of its Operation Euphrates Shield, intended to drive terrorist forces away from the Turkish border.
Its other stated objective is preventing Kurdish forces from establishing a presence there.
According to Ankara, its military now controls a swath of territory 1,925 square kilometers in size, and numbering 230 districts.
Victory in Al-Bab would represent a very significant step forward for Ankara and its joint operation with rebels fighting under the banner of the Free Syrian Army. This comes, however, on the heels of earlier conflicting reports from rebel sources, which seemed to slightly exaggerate the progress, giving differing accounts.
Earlier, Turkish President Recep Tayyip Erdogan vowed that the Turkish forces would continue their advance to Islamic State's Syrian capital, Raqqa, once they seize Al-Bab. "The ultimate goal is to cleanse a 5,000-square-kilometer area," Erdogan told the news conference at that time, as cited by Reuters.
You can share this story on social media: