Almost 70 dead, 100 injured in two blasts near Al-Bab, Syria – reports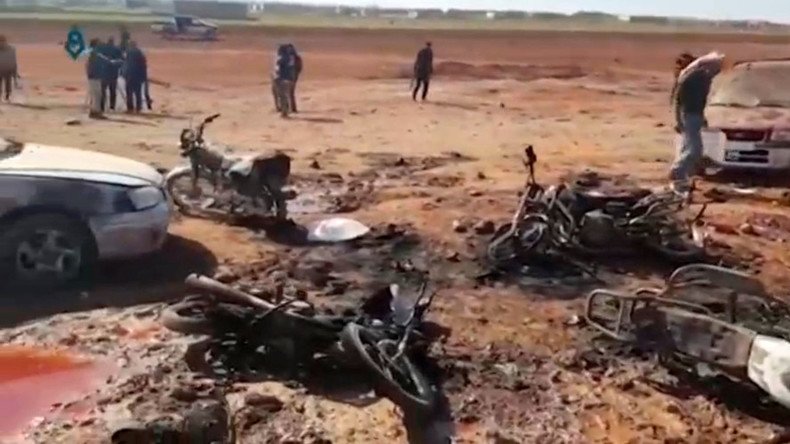 Almost 70 people, mostly civilians, have been killed near the Syrian city of Al-Bab, in Aleppo Province, in two Islamic State (IS, formerly ISIS/ISIL) car bombings, media reports said.
The first explosion took place in the Syrian village of Sousian about eight kilometers north of Al-Bab in Aleppo Province, Reuters reported. The blast occurred in a particularly dense public area.
According to Anadolu Agency, at least 60 people were killed and 100 injured in the car bombing. At least 41 injured civilians have been transferred to a hospital in Kilis Province, southeastern Turkey on the border with Syria, Anadolu added, citing sources.
Six rebels were among those killed, Reuters reports, citing sources in the region, who said a car bomb was used in the attack.
A second car bomb exploded in the same village some time later, AP reported, citing the Aleppo Media Center and Thiqa News agency, media platforms operated by activists. The explosion left eight people dead, it added.
The incidents follow the Turkish military's announcement that Al-Bab had been liberated from IS in a joint operation with armed anti-government rebels. The operation began in August 2016.
When the operation is over, "we will be able to say that Al-Bab has been completely cleared of Daesh elements," Turkish Defense Minister Fikri Isik said Thursday, using an Arabic acronym for the Islamic State terrorist group.
Al-Bab and two smaller towns, Qabasin and al-Bezah, are said to be the terrorist group's last remaining stronghold in Syria's northwest.
The victory in Al-Bab may have been exaggerated on Thursday, as rebel commanders from the Free Syrian Army reported success. "We had reached the city center yesterday but there was a suicide attack so we had to withdraw a little bit," a fighter from the Sultan Murad Brigade told Reuters by phone on Thursday, referring to another earlier attack. He reported terrorists laying mines along the tunnels running below ground.
READ MORE: Turkey-backed Syrian rebels seize center of strategic town of Al-Bab
These reports were corroborated by other field commanders in interviews to AFP, celebrating IS being kicked out of the town completely, and follow the February 17 report that Al-Bab was almost a done deal – while reports were emerging that IS was still in control of 90 percent of the town.
You can share this story on social media: