Germany aims to verify asylum seekers' identities by searching mobile phones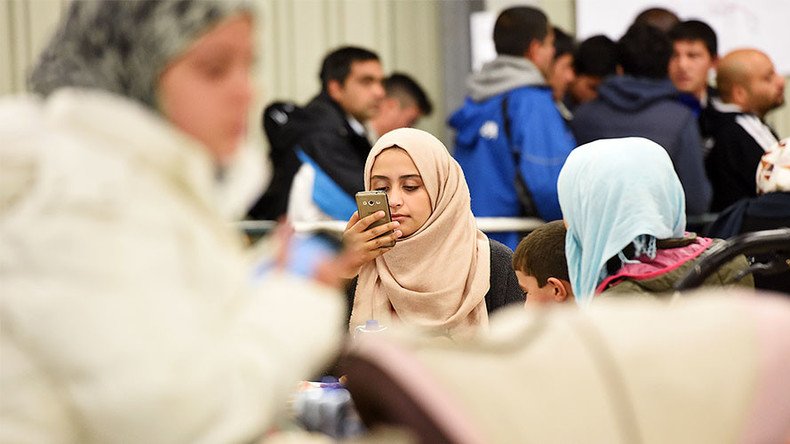 The German Interior Ministry is proposing a new law that would provide authorities with access to personal cell phone data of asylum seekers without a warrant or consent for a more precise and quick identity check, local media reports.
Plans for the bill were first reported Sunday by German broadcasters WDR and NDR and Munich-based newspaper Süddeutschen Zeitung, which quoted the Interior Ministry as saying that the initiative is aimed at "better enforcement of departure orders."
As of now, the Federal Office of Migration and Refugees (BAMF) needs consent to obtain data from a person's mobile phone. If an asylum seeker denies the consent, authorities will be able to collect the needed information in case there is a court warrant, issued only if there is a suspicion of a criminal offense.
The proposal first has to be approved by the ministry, and after that it may be put to a vote in parliament. Until that moment, the ministry said it would abstain from commenting on the matter.
"No detailed information could be provided on the individual arrangements" before the vote is finalized, the ministry said, according to Süddeutschen Zeitung.
However, a source from the Interior Ministry told German TV magazine "Berlin direct" that authorities are to make use of the proposed law only in "exceptional cases."
According to the Interior Ministry's estimates, last year between 50 to 60 percent of asylum seekers (about 150,000 people) would have had their identities that way checked more thoroughly, had the law been enforced.
Innenministerium will Handydaten von Flüchtlingen "nur in Einzelfällen" auslesen. Privates müsse geschützt bleiben, sagt @BMI_Bund-Sprecher

— Berlin direkt (@berlindirekt) February 20, 2017
Earlier this month, Germany's federal migration agency called for the fingerprinting of all asylum seekers on regional level in the same way that it's already done at central offices. The move is aimed at fighting alleged "benefit fraud."
"Asylum seekers are registered on the basis of their biometrical data, including fingerprints, and are given forgery-proof identity documents, the 'arrival certificate," the agency said in a statement on February 8, stressing that local authorities must "likewise be aware of the applicants' identities."
The discussion of a new law that would make it easier for authorities to carry out identity checks was, among other things, sparked by the case of Anis Amri, a Tunisian suspect accused of driving a truck into a Christmas market in Berlin center and killing 12 people. Amri gave at least 14 different identities to German authorities, German police reported.
You can share this story on social media: