Moscow's recognition of Donetsk, Lugansk passports doesn't contradict international law – Kremlin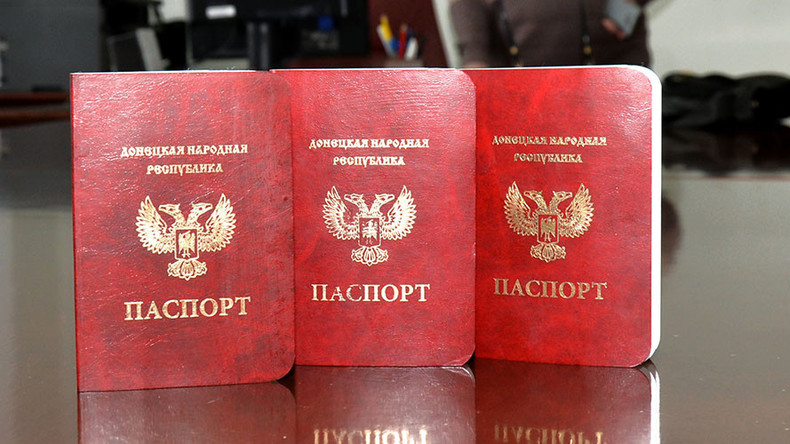 Moscow's recognition of the passports of the Donetsk and Lugansk regions of eastern Ukraine isn't at odds with international law or the Minsk agreements, Kremlin spokesman Dmitry Peskov said in response to a statement by Ukraine's president.
"This order doesn't contradict international law or the Minsk agreement in any way. It's the de jure alignment of the situation that existed de facto," Peskov said.
Peskov stressed that the Donetsk and Lugansk passports are not documents of officially recognized states, but they merely serve as identification papers.
"It had to be done, due to humanitarian concerns," he said.
"The whole region is under the conditions of an atrocious blockade, a severe embargo from its capital, from Kiev," he said, adding that under such circumstances the people have no opportunity to renew their documents.
"There is no reason to aggravate the situation," Peskov concluded.
Ukrainian President Petro Poroshenko has said that Moscow's move contradicted international law and called it "another proof of Russian occupation."
On Saturday, Russian President Vladimir Putin ordered Russian authorities to temporarily recognize the registration documents in certain parts of the Donetsk and Lugansk regions of Ukraine. Speaking at the Munich Security conference, Russian Foreign Minister Sergey Lavrov said that the order will be in place until the Minsk Agreements aimed at settling the conflict are implemented in Ukraine.
Kiev and the authorities of the self-proclaimed Lugansk and Donetsk people's republics signed the Minsk accords aimed at securing a full ceasefire in the region and providing for constitutional reforms that would give the region greater autonomy and special status almost two years ago,
However, Kiev has so far failed to deal with the political and economic changes in the country.
You can share this story on social media: