Poroshenko admits to coordinating actions of radicals maintaining Crimea blockade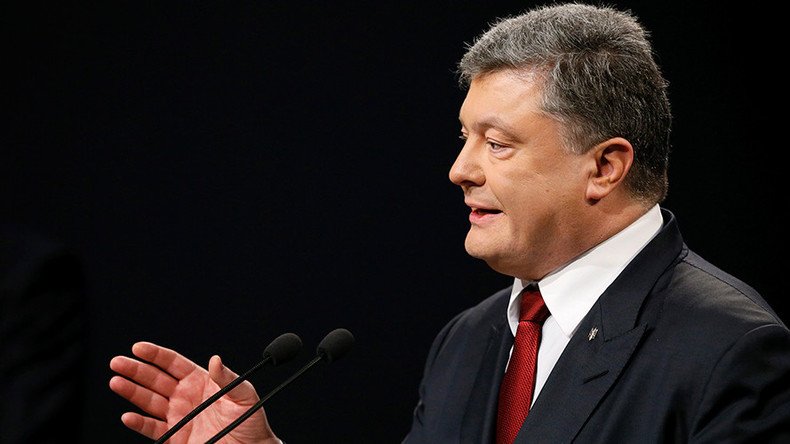 Ukrainian President Petro Poroshenko admitted that he coordinates actions aimed against the Crimean Peninsula, including the ongoing "energy blockade," which have been carried out by an unrecognized Crimean Tatar nationalist organization called Mejlis.
"I regularly meet with the representatives of the Crimean Tatar people, with Mustafa Dzhemilev [a Ukrainian parliament MP and a long-time leader of the so-called Mejlis] and Refat Chubarov [the current leader of Mejlis] as well as other activists in order not only to support, but also to coordinate their actions," Poroshenko said during a press-conference on Thursday, Ukrainian media report.
The Ukrainian leader also called for intensifying efforts aimed at returning Crimea to Ukraine, although he refused to "assume any irresponsible responsibilities concerning specific dates."
On January 13, the Legislative Assembly of the Crimean Republic addressed the Russian Prosecutor General and Investigative Committee asking them to launch a probe into the suspected genocide of Crimean people in view of the ongoing energy blockade, which was set up with the participation of the members of Crimean Tatar nationalist organizations and the far-right Ukrainian Right Sector movement.
"The blockade of the Crimean Republic launched under the leadership of Ukrainian MPs Mustafa Djemilev and Refat Chubarov as well as groups of persons who are de facto controlled by the Ukrainian authorities has been going on for over four months now. This is a very visual example of a blatant violation of Human Rights, of a crime motivated by hatred and of an attempt at genocide that hurts civilian residents of Crimea," the address reads.
Crimean lawmakers also sent an address to the United Nations requesting that the blockade be recognized as genocide and asked the Russian Foreign Ministry to assist them in forwarding this document to the UN General Assembly and the Security Council.
In November of 2015, a power pylon in Ukraine's Kherson Region was blown up by a group of people suspected to have been led by several Ukrainian politicians. As a result, the electricity supplies to Crimea were cut off, leaving about 2 million Crimean residents partially or completely without power.
Afterwards, radicals from Ukrainian's extreme Right Sector nationalist group and representatives of Crimean Tatar nationalist organizations continuously blocked the attempts of repairmen to restore the power line.
In response, Russia built a power transmission line from the Russian mainland directly to the Crimean Peninsula. The second such line was personally switched on by President Vladimir Putin in mid-December.
In addition, Crimean Tatar nationalists and Right Sector members set up a "food blockade" of Crimea in September of 2015, preventing trucks transporting food from entering the peninsula from Ukraine.
In a poll conducted by Russian researchers in late December, about 93 percent of Crimean residents voted against concluding any new energy contracts with Ukraine. Some 94 percent also said they were ready to put up with minor disruptions in electricity while Russia is working on supplying 100 percent of Crimea's power.
Crimea has now completely rejected Ukrainian energy, Mikhail Sheremet, the First Deputy Prime Minister of the Crimean Republic, told RIA Novosti.
"We have abandoned Ukrainian energy entirely and permanently, we do not need it and we have never relied on it," he said, adding that the Crimean government "does not treat Ukrainian authorities seriously as they have abided by almost no agreement."
The Crimean Republic reunited with Russia in April of 2014 after a government coup in Ukraine led to a military conflict in the southeastern regions of the country. Crimea's accession was approved in a referendum by an overwhelming majority of its citizens. The move was not recognized by Kiev, however, which claims Crimea is still part of Ukraine.
You can share this story on social media: