4 Russian servicemen killed in car blast in Syria – MoD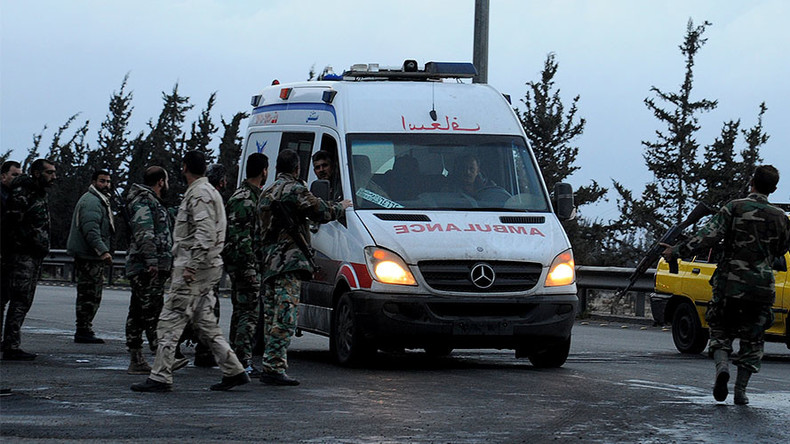 Four Russian servicemen were killed in Syria on February 16, when a radio controlled bomb targeting a Syrian military convoy exploded, the Russian Defense Ministry has said in a statement.
Two other Russian servicemen were injured in the blast, the Ministry added.
The vehicle had been part of a Syrian Army convoy traveling to the city of Homs from the Tiyas airfield in central Syria's Homs Province.
Russian military advisers were in the car when it blew up, according to the ministry's statement.
When the vehicle was some four kilometers (2.5 miles) from the airfield, a radio-controlled improvised explosive device (RCIED) went off under the vehicle, the ministry said.
Since September 2015, when Moscow was invited by the Syrian government to take part in the anti-terrorist campaign, Russia has lost 26 servicemen in Syria, including the four recent victims, according to TASS estimates, based on Russian Defense Ministry statements.
READ MORE: 2 Russian pilots killed as ISIS shoots down chopper near Palmyra – MoD
In late December of last year, a ceasefire brokered by Russia, Turkey and Iran was established in Syria. The Islamic State (IS, formerly ISIS/ISIL) and Al-Nusra Front terrorist groups are not included in the truce.
The joint efforts of the three nations to bring peace to the war-torn country have been praised by UN Special Envoy on Syria Staffan de Mistura, who said "the ceasefire is holding more than previous ones."
READ MORE: Russia & Turkey-brokered Syria ceasefire has more chances than any other – UN Syria envoy
Russia was recently actively involved in meetings on Syria in Astana, Kazakhstan, where several rounds of peace talks were held with the participation of Ankara and Tehran. The sides generally agreed on the details of how the cease fire should be monitored, Russia's foreign minister, Sergey Lavrov said. Efforts to convince more fighting groups to enter into talks with the Syrian government have also been ongoing.