Russia & Turkey-brokered Syria ceasefire has more chances than any other – UN Syria envoy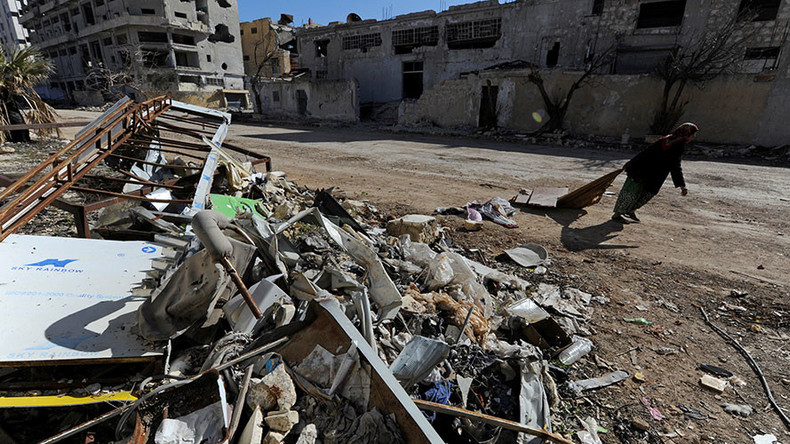 UN Special Envoy Staffan de Mistura has praised the joint efforts of Russia and Turkey to broker peace in Syria, and has urged the international community to support it.
"The ceasefire is holding more than previous ones," de Mistura said at the Munich Security Conference, "and in my modest opinion has, if we all look at it carefully and support it, more chances to actually succeed than others."
This is because, according to de Mistura, both Russia and Turkey have the assets in Syria needed to "exercise leverage, which is a crucial point."
There is a mechanism being established to monitor and support the ceasefire, de Mistura said. "That's why we have been supporting Astana, and the meetings in Astana, of course based on the assumption that they are surgical, laser-beamed on a very important issue: establishing, stabilizing and reinforcing the cessation of hostilities."
De Mistura believes that Russian and Turkish brokering helped avoid the worst possible scenario for the battle of Aleppo.
"There were not-so-secret meetings in Ankara, and those meetings produced discussions between armed groups and Russian military which avoided – people sometimes forget it – the final, the worst part, of the battle of Aleppo.
"Which would have led to the total distruction of the city plus 110,000-115,000 between refugees and dead people."
The Astana talks, however, have failed to improve the humanitarian situation in Syria so far, de Mistura said.
"When the war stops, in theory we should have humanitarian access. This has not yet taken place. But I know, and we push for that to be one of the consequences, collateral benefits rather than collateral damage, of the cessation of hostilities discussed in Astana."
But including armed rebels in the talks was a great achievement.
"We have seen armed groups be present, and not actually being called terrorists, but actually being treated as interlocutors and sitting and discussing with the other side under the guarantors of the ceasefire, which is as you know Turkey, Russian Federation and I would say also Iran."
While there has been considerable progress, the situation is "not perfect," de Mistura said. One of the reasons is the still-present Al-Nusra Front terrorist group, which is "a spoiling element."
Another is the various sides' efforts to improve their chances in combat, which they still consider an option.
"The temptation by the government to want to accelerate, as it is happening while we are talking, facts on the ground, in order to be in a better position on what is still a possible military option, and the decision by the opposition to negotiate when they believe they are not in an ideal military position, is still a potential spoiling element."
De Mistura said that he was unsure of the exact role the US might play in any future peace settlement, but posited that Washington will likely stick to their set of priorities.
"I understand that they do have in mind some clear priorities, and they are three," he explained. "One is fighting Daesh [Islamic State]; second, how to limit the influence of some regional players, you know; and three, how to not actually damage one of their major allies in the region."
During a panel discussion after de Mistura's address, Brett McGurk, the White House envoy to the US-led military coalition against IS, agreed with de Mistura's assessment that Russian and Turkish participation is key to ending the crisis in Syria.
"I was here last year in Munich, and one of the reasons that [2016's peace] process did not succeed as we had hoped is frankly because we were a guarantor, and Russia was a guarantor," he said. "It turns out when the US is a guarantor, we don't have people on the ground and we became a bit of a Ping-Pong ball to try and control the situation."
"Turkey and Russia are suitable guarantors, and we are looking for a role [in which] the US can come in and help reinforce that process through Astana."